Name: Caroline Allaback
From: Appleton, WI
Grade: 12
School: Appleton Career Academy
Votes: 83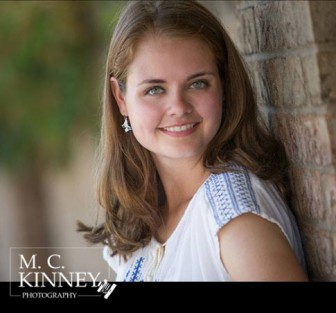 Volunteering has always inspired me. It brings me a sense of hope to see people come together, set goals, and work hard to make the world a better place. Throughout my high school career, I have taken as many opportunities as possible to help my community. One of my most passionate projects has been helping veterans organizations by creating a variety of
different promotional materials for their events. I have an interest in graphic design, and I've always had an immense respect for those who have served to protect our country. So when given the opportunity, I knew this would be something that would allow me to use my skills in a way that would be rewarding.
In my sophomore year, I helped organizations in my community such as Nick's Ride to Remember, a fundraising event for veterans in my local area. It's organized by the parents of Nick, who was killed serving in Afghanistan. I met with Nick's parents three times throughout my sophomore year, and helped create promotional material over the course of three weeks, staying after school for an hour once a week. My responsibilities included creating a brochure, poster, and cards for the event. It was very important that the information on the promotional materials was correct, so that the event could run
smoothly. My biggest challenge during this project was making sure that I met the deadlines for the posters so that they could be hung up prior to the event. However, by staying focused and communicating with Nick's parents, I was able to complete my tasks.
As a junior, I was involved in creating a brochure and poster for the annual Memorial Day service in my community. I was responsible for the design of the brochure, as well as meeting with veterans and community members to discuss events that should be included. We had two meetings over the course of two months and I stayed after school for an hour five times
during that time period, working on the materials. The most challenging part was choosing an image to represent Jacob, the Marine being honored. Eventually, I chose an image of the Marine Corps War Memorial in Washington, D.C. In the end, I was able to attend the Memorial Day service. Seeing Jacob's family members there brought me so much joy to have helped with an aspect of this event, and it was a beautiful ceremony.

The most rewarding part of these experiences was knowing that I could give something back to the families of those who lost their lives defending our country. I know that I played a small part, but I'm happy to have been able to help the event save money and time by providing them with my skills. In the future, I hope to donate even more of my time and skills to events like these, because I know how much it's appreciated.