Name: Aidan Ryan
From: Vancouver, WA
Grade: High School Junior
School: Seton Catholic High School
Votes: 769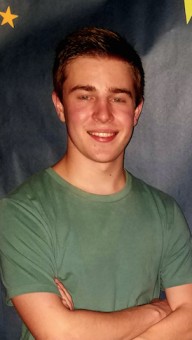 From the age of nine I have participated in eight service trips throughout Africa, Asia
and Central America. The children I meet on these trips seemingly
have very little compared to me, but are always happy kids. I
learned so much from them about humility, selflessness and
compassion. These experiences inspired me to volunteer over 160 hours
per year in my own community. My projects abroad taught me about
poverty and its negative impact on family's lives. In fifth grade,
I started volunteering at local shelters and serving the homeless.
Having learned that compassion was more than just serving those in
need, but also being with them, I took time to eat with homeless
people, get to know them by name, and learn their stories. Last year,
I recognized my sister's classmate living at a shelter. This
reminded me that the hungry could be anyone: a relative, neighbor or
friend, and prompted me to take more initiative to alleviate child
hunger.
Last spring, I developed my first annual "40 Days of Giving" campaign to help
alleviate child hunger. I met with principals from four schools to
gain their support and recruited my friends to help implement the
program. Next, I made presentations to the student bodies at each
school and began to coordinate their individual school efforts. Over
the next six weeks, my sister and I spent our weekends collecting
food door to door. I spent after school hours scheduling appointments
and meeting with local businesses to solicit donations, and I held
four fundraisers at my home and local restaurants events to raise
money for the Clark County Food Bank. Two hundred and sixty students
got involved by volunteering at the food bank while others donated
their lunch money to the cause. In total we collected 151 brand new
coats, shoes and backpacks for students in need, 6,574 pounds of
food, and $67,814.76 in donations, enough to provide 270,000 meals
for hungry children.

I knew that overcoming apathy, which many have towards the homeless,
would be the most difficult aspect of my project. Kids don't
associate a homeless adult with hungry children or recognize that
some of their peers come to school hungry. By creating the
opportunity for my friends to witness poverty up close, I opened
their eyes and inspired their willingness to alleviate hunger in our
own community. The most rewarding aspect of the project was seeing my
friends truly wanting to improve the lives of other children. Too, by
collaborating with my peers and amongst the schools, we generated new
ideas, which led to greater results. I learned to create more
effective presentations, set appointments, be punctual, dress
appropriately, and how to use different fundraising methods to help
reach my overall goal. Developing these new skills provided me
tremendous personal growth. Serving benefits others, but also helps
develop our own character and personal satisfaction. This is what I
try to tell other youth and what we ultimately experienced together
serving others.