Name: Brooke Eppert
From: Columbus, OH
Grade: Senior
School: Upper Arlington High School
Votes: 0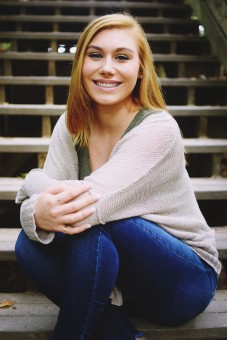 Alzheimer's
Care: The Constant Roller Coaster
Volunteering is by no means just a requirement given to me by my school, but an
opportunity for me to be a part of a cause that is dear to my heart.
In September I started volunteering at National Church Residences, an
assisted living facility in Hilliard, Ohio. I have been volunteering
in the memory care unit where my grandmother, who lost her battle to
Alzheimer's Disease in 2015, was previously a resident at.
Through my experience with National Church Residence I have found their
mission to be remarkable. Not only do they provide extraordinary care
for all residents as if they were family, but they aspire to keep all
residents in an active mental and physical state. Monthly activities
are planned for residents, including morning exercises, afternoon
concerts by a variety of bands, and scenic drives around Columbus.
Residents are able to visit the ice cream parlor on the first floor
to resolve their sweet tooth and watch endless reruns of The
Waltons inthe homemade movie theatre.

On the memory care floor, there are reminiscing areas at the end of all
hallways that are intended to remind residents what they may have
encountered in the past. My favorite reminiscing area to take the
female residents to is the "tea room", where there is an old
fashioned tea set, a fancy dress displayed on a manikin, and vintage
hats that the residents and I can wear, pretending like it's the
1960's again.
Not only do I help with the activities planned for the residents, but I
also play a key role in simply being a visitor to keep them company.
One-on-one visits with dementia patients is crucial as it keeps them
in a healthy state of mind, especially for those who do not get
visitors. Being able to spark a conversation with a resident or
reading them a story is a way to keep residents actively using their
mind. It's an incredible feeling knowing that my presence was the
highlight of a resident's day or that I made them smile through
doing the simplest task. However, there are some residents whose
dementia is far more advanced than others. Communication with these
residents is difficult as I can't understand what they are trying
to say or it doesn't make sense. In spite of this, my experience
with my grandma has enabled me to find alternative ways to
communicate and still make an impact in their day.
The most challenging part of my volunteering experience has been being in
the place where my grandma once lived, and recognizing residents from
when she was still living there. Volunteering at National Church
Residences with the Alzheimer's patients was always something I
aspired to do, but it took me longer than I thought it would to be
able to return. Nevertheless, my experience with the patients on the
memory care floor has been a reflection of the dedication I have to
care for those who can no longer care for themselves. Although there
is not much that can be done for dementia patients at this stage of
their disease, I am overjoyed with the positive impact I am able to
make by focusing patients on the good, rather than the bad.