Name: Monica Holland
From: Chillicothe, Missouri
Grade: 11th
School: Chillicothe High School
Votes: 38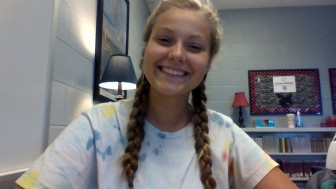 Amazing
Connections in Unexpected Places
Upon arrival, I saw a small dirt yard with two make-shift soccer goals
made out of rusted metal. A friend brings out a soccer ball, and we
begin to kick, run, and play. All of a sudden, a girl around the age
of 10 comes out from an alley-way; she does not speak, only watches
from behind the fence. We invite her to join us; hesitantly, she
kicks the ball. Her name was Ava. This was one of the many
connections I made on a church mission trip to Denver, Colorado.
Working with refugees from different countries has helped me realize
how much I want to help the world, especially those who have very
little.
Making connections on this one trip helped me realize how I want to do this
for the rest of my life: to help people get in touch with God. I
particularly have a passion for kids of all ages. While painting apartment doors,
a boy named Ricardo came up to me; I talked to him about Jesus and if
he knew him or not. He translated for me so the people inside the
apartment buildings knew what I was doing. He helped me paint and
told me about himself, his family, and his dog, Alanzo. A girl named
Mooku who was in the 5th grade and was from a place near Taiwan; she
was very sassy and quickly became a good friend of mine. On our last
day in Denver she asked me if we were coming back next year. I told
her we might but only if she works hard, tries her best at school,
and in her church. It broke my heart to leave.
On this trip we helped a local church with a program called "Mean
Street Ministries." Members of my mission group and people from
their church came together to the part of town they call "Mean
Street". We met people getting out of bad situations, people who
have nowhere else to go, people who needed our help and guidance.
Many Americans view the homeless as lazy or uneducated, many of those
Americans have not met any of these people we call the "homeless".
Every person has their own story, and I feel the need to help them
look towards the future to see better days. There have been times in
my own life where I could not see the end of a bad situation, but I
realized that helping others can also help me. As Einstein put
it,"Only a life lived for others is a life worthwhile."
Making these connections and meeting new people has been a life changing
opportunity. Helping others has been my passion from the start,
especially through the work of God. This mission trip has shown me
God and how I want to serve him and others every day. In the future I
plan to continue doing mission work and expand kindness throughout
the world.