Name: Kaitlyn Marie Riego
From: Carson, CA
Grade: 11
School: Academy Of Medical Arts at Carson Complex
Votes: 0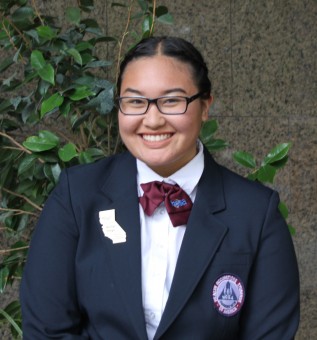 From an early age I realized something important about myself which drove
me to become the best that I can be. Seeing the professionalism of
doctors, nurses, and medical assistants carried throughout the
hallways captured my imagination – an imagination that eventually
grew to an aspiration to help those in need. During my later years in
high school, the idea of entering the field of pediatrics as a
pediatric trauma surgeon became less of a fantasy and more of a goal
to focus on.
Going to high school has granted me the opportunity to be in a medical
program which gave me a way to explore my options into my future
endeavors. Back during my first year in high school, a club called
HOSA, which at the time stood for Health Occupations Students of
America, now know as Future Health Professionals caught my attention.
What got me interested in the organization was their advertisement
method. During Biology class, there was a navy blue poster, plastered
with a medical doctor working in a lab. The caption read, "Can you
see yourself here?" I didn't know what I was getting myself into,
but I knew I always liked helping people. I was pleasantly surprised
to find out that, after I had stepped into the first HOSA meeting of
the year, there were plenty of local volunteering opportunities. Some
include volunteering at my local medical center, where I found the
experience of volunteering to be very rewarding. Actually being able
to contribute to the workings of a hospital environment, gave me a
better understanding of what goes on around behind the scenes. It's
given me a deep appreciation for how a hospital truly operates. Over
the course of 3 years, at my local medical center I've learned that
there are many different kinds of people whose wide variety of jobs
play a crucial role into ensuring that the hospital is always in tip
top shape. It was not until I started volunteering at the E.R Triage
that I got to glimpse pieces of actual major events. Here I learned
how to interact with many patient's family members. Each family has
a different story to tell and the same goes for each employee.
Sometimes we tend to forget that it's not just the doctors and
nurses who make the hospital run well.
In the medical field, every employee does their part into ensuring that
each patient receives the care that they deserve. Without
volunteering I probably would've never thought about this.
Volunteering gave me a place to learn more valuable skills which I'm
certain will help me in the future. Even to this day, when I clock in
each Tuesday for my shift at the hospital, I still feel a sense of
pride and satisfaction. When I was a child, being in the medical
field was merely part of my imagination. As a I got older, it quickly
developed into an aspiration. When the time comes, it will be my
occupation.