Name: Hayah Abbasi
From: Mason, Michigan
Grade: 11th Grade (Junior)
School: Mason High School
Votes: 1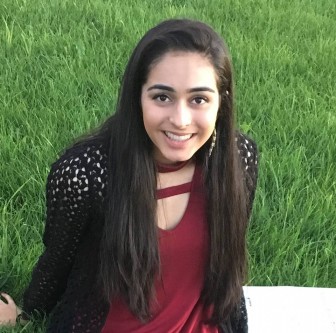 Hayah
Abbasi

Appetite
for Making a Difference
(https://www.dmvedu.org/scholarship/)
As a growing teenager in our society, I notice the increase of technology usage every day. Many people claim they know the latest
movies or the work of trending artists. However, only a small population can admit to participating in volunteerism. The lack of time spent on helping others and making small efforts has helped me recognize the importance of volunteering.
My greatest devotion of time to community service has been in a hospital. This location best suits me because I enjoy helping others
and reaping the benefits that come alongside. I take the role of a patient escort; this job entails me to guide the discharged patients to their cars in wheelchairs. Going in to work for two hours every Sunday has resulted in me gaining a total of 124 hours spent making a difference in the community.
The biggest challenge in this setting as a teenage volunteer is learning to communicate with a diverse population. Since I am not certified to provide patients with any medical information, I have to inform them in a kind yet assertive manner of my limited responsibilities. There are times when they do not cooperate with the policies; that is when I reach out to the superiors for assistance. Nevertheless, volunteering brings much joy and satisfaction into my life. Knowing that I make a difference in someone's day gives me hope for future generations. Being a patient escort has forced me to be patient and responsible, as well as accommodating. It has also enhanced my social skills and knowledge of the general hospital.
Since my ultimate goal is to go into the medical field, I feel that volunteering in a hospital environment will help me visualize my
future job duties. Visiting different departments and floors of the building exposes me to the realities of the work place before fully
committing. Through my service tasks, I learn how to handle various situations in conjunction with holding high standards at all times.
Slowly but progressively, I am developing my skills and adapting behaviors that are important in the medical field.
Hoping to see less electronics draining away time, I want to inspire those younger than me to step up and make a difference. I hope to uplift everyone around me, even if that means seeing a smile. Volunteerism creates new relationships and safe territories for those in need. The overwhelming amount of satisfaction I receive from community service motivates me to strive for continuous progress.
While I continue this beautiful journey of serving public, I believe my efforts today will impact others beyond my control. One little act of kindness can alter the world in a very unpredictable way. Spreading goodness and compassion will influence others to pay it forward and create a domino effect of generosity. All in all, understanding and appreciating the concept of volunteerism has steered me to better
myself, give back to the community, and influence my peers.