Name: Lydia Lynn Lundquist
From: Kansas City, Missouri
Grade: 11
School: Saint Teresa's Academy
Votes: 0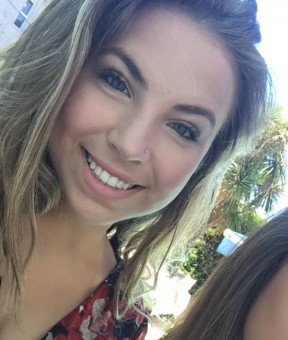 The tickled, beaming faces of the patients are my favorite parts about each day I volunteer. I work with a hospice where a few girls and I visit people in nursing homes and hospice centers. I have completed about 90 hours of service within my year and a half of volunteering because I am interested in becoming a doctor. The most precious responsibility that I have, as a hospice volunteer, is making sure that each patient is treated as special as they can be. Being present is the most important part of volunteering, however another important responsibility that I have is to organize enjoyable events with fun activities for the patients to attend.
Once, I was walking around with a gentle old lady, showing her all of these fun things to do when she grabbed my hand and pointed to a camera. I asked her if she wanted to take a picture and she delightfully nodded. I found some amusing hats and scarves for us to dress up in, hung up a large, glittery blanket for a background and asked my volunteer coordinator to take a few pictures of us in front of the sparkly backsplash. We posed and made some comical faces. When I showed her the pictures she covered her eyes, giggled and said, "oh my, don't we look lovely!" She asked me if I could print one out for her to hang in her room so I did. I glued the photo on a piece of colored paper and plopped on some stickers and glitter and when I showed it to her, a soft smile budded on her face and her eyes grew misty. She looked up at me and said, "this is so beautiful." My heart sank when I saw her unexpected reaction. I lightly touched her hand and thanked her for letting me spend the day with her.
After days of spending time with these loving and gratifying people, I can say that the relationships I developed with the patients were my biggest satisfactions. I felt like I was making a difference in their last few months of living by simply being present. Hospice is
an area of service that is looked past because the people who are being helped don't seem to need as much help as other groups of
people, but the reason this job is so meaningful is because the patients get so much out of just a few minutes of care. This type of
service has helped me open up to everyone around me. I have not only learned to accept others, but I have also learned to accept myself
and allow myself to love everyone, despite their differences. The biggest challenge as a volunteer is realizing that I can't be there
for every suffering person, but I can help those who are right in front of me.