Name: Emily Aguiar
From: Pearland, TX
Grade: 12
School: Robert Turner College & Career High School
Votes: 0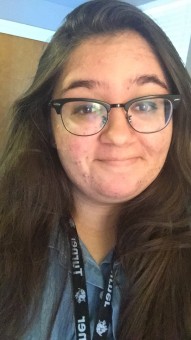 School is such an important, crucial part of a child's development. The last thing that they should have to worry about is if their family can afford the supplies they need for the school year. That is why I have chosen to co-lead, with another young woman, my church's annual Back to School Outreach for the past 4 years, helping to ensure children in our community have the supplies they need for another successful year of learning.
At the beginning of each summer, our leadership team lays out our plan for the event. What went well last year and what can be improved upon? How many people do we expect to serve and what kind of supplies do we need to buy for each of them? Is there anything we can add to our event that would make this more enjoyable for those we're serving and create an atmosphere of connection? More than just giving away free supplies, we want the families we're serving to feel cared for, so in addition to school supplies for the children, we also provide a free meal, games, and opportunities for guests to receive prayer. We want to make this event as much about community and growth as we possibly can.
As we approach the event, the weeks seem to fly by and our team really gets to work. We go around and ask for donations from local stores, we start to recruit and organize volunteers, we make sure we have everything settled with the H.O.A of the community we're serving, and, most importantly, we sit on the floor of our local Walmart counting, sorting, and loading carts with school supplies. When the day of the event approaches, we take pre-packed bags full of supplies to the community center, set up our tents, tables, and games. Once guests start arriving, I gather our group of volunteers, give them directions on where to go and what to do, and then we make sure a line of over 200 families get the supplies they need to have a great year of learning.

            Being involved in this event has taught me a lot of things that will help me as I pursue my goal of becoming a chief financial officer. It's taught me how important it is to have ongoing relationships with business professionals in my community, so that I can ask for help when I need it. It's taught me that, in order to reach a goal, I need to create a team of leaders and volunteers that share my values and bring ideas to the table. It's also taught me how crucial it is to look critically at the work I do so that I can always be improving. Most importantly, it's taught me how one little action of mine can impact a someone greatly. I hope that as I pursue my dreams, I still have opportunities to serve my community, so that I can help them pursue their dreams, as well.