Name: Anjili H. Gomes
From: Durham, NC
Grade: 12
School: Charles E Jordan Senior High School
Votes: 0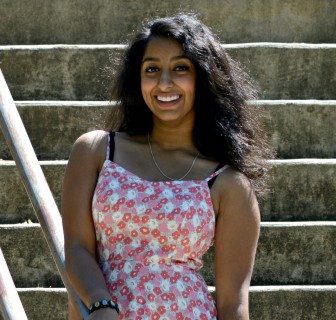 BE
THE CHANGE YOU WISH TO SEE IN THE WORLD
I have dedicated my life to doing community service for others. I first began at age 10, and have been fully committed to continuing on with helping the beautiful people in need of aid. As a young child, I had been such an introvert; small and shy, and was one who never stepped out there to do something amazing for the world. I have always admired Mahatma Gandhi, and this quote in particular has such a significant impact on me as an individual. It is, "Be the change you wish to see in the world". And that's exactly what I have been doing ever since.
Since 2011, I have been a part of the youth group at my church. Every time there was a service project that needed kids to join, you would always see my name at the top of the list. I participate in programs and events such as: "TROSA", "ARC",
Spring Arbor, "Ronald McDonald House", Meals on Wheels, Community Garden, Christmas Tree Sales, "Durham Farmer's Market",
Senior Citizen Cleanup, "Urban Ministries", and much more!
Altogether, I can proudly say I have done about 1,000 hours over the course of my time. But it wasn't easy getting to where I am today. There was an abundance of struggles that I had to overcome in order to rise to the top. I had to think quickly on my feet, and improvise if anything went wrong. I would say the biggest challenge with doing community service would have to be socialization. It was quite difficult to talk to new people, and to start working with them in the projects. But I knew for sure there was one thing we had in common; and that was we all liked helping people by doing community service for one another! I have developed more of an ability to be capable of talking with more people, and to make them laugh, to love, and to enjoy every second of life given to us all.
One of my favorite projects would have to be "ARC". ARC is a place for adults that have mental disabilities and need aid. We visit them every last Friday of the month, and i am more than happy to say I've done them all since age 10. As soon as I walk into the place, i see all the bright and beautiful faces light up like fireworks on the fourth of July! They are so ecstatic to see all the young kids come and getting to spend some quality time with them. We play games, such as Bingo, Operation, Connect Four, Monopoly, Scrabble, Clue, and Sorry! Those are only some, well just my favorites we all play! After hours of fun and games, it's time for dinner. Warm, cheesy pizza awaits for us in the kitchen. The young volunteers go in, and hand out the pizzas to everyone. Eating is also the best part! We all eat our delicious pizzas, and chat the evening away. The nicest part is that they remember me! They will call me by name, and ask how school is going, and we have the time of our lives! It gives me such a warm and satisfying feeling knowing that someone genuinely cares about you just the same way you care about them. There is an equal amount of love spread around to everyone!
As I look into the future, I see myself teaching the kids in my youth ministry program. My younger sister decided to follow my footsteps, and is currently loving doing the service projects. I am determined to teach the upcoming generations that will then teach the next set of kids; by this, it there will be a significant amount of positive influence upon our society today. For I am more than delighted to say "I am the change I wished to see in the world."