Name: Blaine Rasmussen
From: Springfield, Missouri
Grade: 11
School: Ash Grove High School
Votes: 0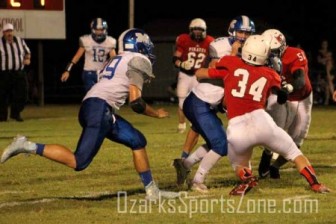 As an Eagle Scout I have learned the importance of improving community
through effective service. I say "effective" because to earn the
highest rank of a boy scout, I had to organize a project that
developed the community. I took on the role of supervisor and
organized the workers into groups that best complimented their skill
set so that the project would run smoothly. My leadership skills were
put to the test to complete a project. Members from my church offered
their time, skills, and good work ethic to help me with this
monstrous project.
The project that I decided would best benefit the community was to build
a safe area for younger kids to practice their archery skills at the
local shooting range. Safety was a key motivator for this project.
The last thing you want happening at a shooting range is young
children roaming around unsupervised. To fix this problem, I built a
privacy fence to surround the children's area so that the kids
would be stationed in their own designated zone but to also provide a
safe backstop for their archery activities. The private fence was
tall enough to provide a secure backstop for their 20lb max pullback
bows. There is an experienced range supervisor with the kids to
ensure their safety while their parents are sighting in their own
guns. The volunteers and I spent multiple weekends cementing 4×4
posts into the ground, screwing the vertical running boards into
place, and sawing off the excess wood. The hard work put into this
project made the shooting range more kid friendly and much more safe
than it previously was.
I have been privileged to be apart of many church group service projects. We have
served the community in many ways. For one project we went to the
community's park and picked up trash, debris, and impurities. I
assisted in that while the rest of the group repainted the pavilion.
With both of these acts of service, it made the local park look fresh
and clean which makes the community as a whole look more appealing.
Another project i did with youth of the church was packaging canned
food, toiletries, and clothing with the local organization for the
benefit of the community's homeless. I also volunteer every year at
a hunting expo which boosts local economic sales for small
entrepreneurs.
Although I am not apart of an ongoing community service position, I would best describe my accomplishments through the scout law because I "do my duty to
God and my country" and "To help other people at all times". I
believe that no matter the amount of hours you serve others and your
community, service is still service. Whether it is putting in your
hours at a local soup kitchen or even if it is a simple thank you to
your local school educators, service is still the same. You still
reap the good feeling afterwards that what you did was right. What
you did helped to improve the life of others even if it was a small
improvement. It's still a step in the right direction.