Name: MaKayla Lindemann
From: Solon, Iowa
Grade: 11
School: Solon High School
Votes: 143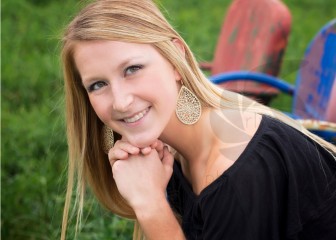 Being the Role Model That I Once Looked up To

By: MaKayla Lindemann
         Giving back to and learning from my community is something that I feel very passionately about. I have completed various volunteer activities, but have chosen this experience in youth education because it allowed me to explore an area I'm unfamiliar with. In the spring of 2015, I volunteered nearly every Tuesday from 2:00 – 3:15 p.m. helping a kindergarten and 2nd-grade class at my local elementary school, Solon Lakeview Elementary. As a volunteer, I helped the teachers prepare activities and assisted students with their assignments. Overall, I volunteered for five months and totaled approximately forty hours of service.
Ultimately, the greatest challenge I faced was retraining my brain to think like an elementary student again. At times, when I was assisting a student, I was explaining the concept in a tone that was not easily understood by this age group. Therefore, I had to carefully use familiar concepts and terms that are affiliated with elementary students in order for them to understand the assignment.
Moreover, the most satisfying point of my experience was being an impactful role model to the students. I quickly realized how much of an influence I had on their day when I entered their classroom. Nearly every student stopped what he/she was doing, enthusiastically greeted me, and sporadically gave me hugs. Overall, the most important thing I learned was that while I was helping the teachers with classroom duties, I was more importantly positively influencing the young students. Also, I learned that actions and words speak loudly about the character of a person; how it can tremendously impact others. I feel that if I returned in ten years and met with the same children, I believe that the lasting impact of my efforts, interactions, and relationships would allow them to remember who I was and how I impacted their academic and social lives.

            Although I don't wish to pursue a career in education, the experience gained from this project will help me in any career field. My current career goal is to be a physician's assistant, which requires constant interaction with people of all ages. This experience has taught me the importance of leadership, citizenship, and responsibility, thus leads to the concept of "forward looking". Ultimately,
forward-looking is taking opportunities today to better prepare for tomorrow. Forward-looking consists of having a plan, looking into the future, and setting goals that will achieve your plan. Completing this volunteer project is one example of how I am looking forward.
Interacting with the young students and observing their habits is a primary reason why I pursued this project. I will utilize this
experience to encourage others to volunteer and gain their own unique experiences that will help achieve their present and future plans.