Name: Amy Lee Hanley
From: Phoenix , Arizona
Grade: Junior
School: Greenway High School
Votes: 0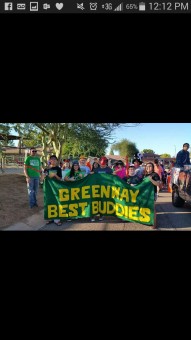 It's either you're in 100% or you're out. Being committed to volunteering
and to give back to the community has been one of the things I strive
and love doing. With volunteering it gives you gratitude and a sense
of beingappreciative of what you're passionate about.
For me I am passionate about giving each individual, no matter what their
ability is an equal opportunity. Whether it's in sports, inclusion,
or jobs. I have committed to volunteer within my high school career
in the organizations of best buddies. Best Buddies is a non-profit
organization that promotes a normal high school experience, by
pairing a student with an IDD (intellectual developmental disability)
to a student without an IDD in a 1 to 1 friendship. Buddy pairs
contact each other at least once a week and does an activity
together twice a month. In this organization I was able to meet
some of the coolest individuals. During my sophomore year my buddy
was Anthony, a guy with a personality bigger than life itself.
Together we volunteered at every high school varsity football games
to provide water. GO DEMONS! As my passion for the club grew and I
became the chairman of prom committee. With that I planned every
detail and decoration that went into Greenway Best Buddies Prom.
As I planned for the biggest event for the club (prom), staying up
for endless nights working on decorations. It finally paid off
when club members entered prom seeing the twinkling lights that
hung around the room, not to mention the photo booth.
For my junior and senior year my buddy is Mercedes a spunky freshman with
diva like attitude. Mercedes and I have created a friendship that is
filled with having fun. Our personalities of being silly and
energetic have kept our friendship alive. Going to dances and getting
slushies is some of our favorite things to do. Within Best Buddies I
learned to fully enjoy someone for who they are. Even though Best
Buddies is only one friend, that one friend can have a huge impact.
In addition that every person has a right to a fun high school
experience no matter their ability. Greenway high school students
have seen the positive impact that this clubs has on individuals with
IDDs creating a sense of inclusion that will last for many years down
the road.
Now for my senior year in high school I am now Chapter President of
Greenway Best Buddies to motivate other students to join Best Buddies
is my biggest goal. As I planned to further my education and
volunteering after high school I tend to continue volunteering for
Arizona Best Buddies and to become a Physical Education teacher to
create a learning environment of motivating others and challenging
very person's abilities. During my studies in college I plan to
continue working with individuals with IDDs in respite and
habilitation. Furthering my passion of volunteering and created a
more including world.    

          By volunteering the with organization Best Buddies at Greenway High
School I was able to create a more including environment. Having fun
and to be passionate are the most important virtues that the club
taught me. Additionally to see an individual for who they are not
what they are. Lastly I gained a best friend for life.