Name: Kirsten Lacy
From: Louisville, Kentucky
Grade: High School Junior
School: Louisville Male High School
Votes: 0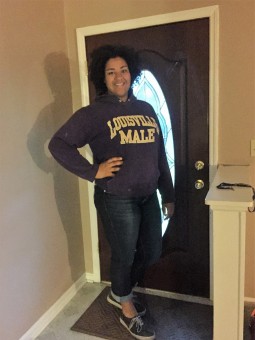 Volunteering is an essential part of my
family's life. My choice in volunteering is probably not the most quintessential
example of what volunteering really is. I choose to volunteer in my
church's café. While it may not seem like much, or like I don't
have to do a lot, in all actuality this volunteer position is very
difficult. I make smoothies, frappes and cappuccinos. Most people
don't even know what most of these things are, but for me it's an
everyday thing. I work for 3.5 hours every Sunday and sometimes an
hour or two during a holiday. It is not a position I do often but
when I do, I make the most of it. As a volunteer, since I am not yet
18, I am responsible for running the "back of the house" more
specifically, cold station which includes making blended drinks,
coffees, teas, mochas, lattes, etc. It becomes sort of a repeated
process but it gets challenging because my church is home to 30,000+
members plus guests every week and is the largest church in Kentucky
and fifth largest in the United States. This means a lot of people
which means, in turn, a lot of drinks to be made. While it is
challenging, making drinks has been satisfying for me because I get
to deliver them too. I usually give a "Have a great day!" or a
"Happy (insert day here)" and call them by name because I truly
want them to feel like they matter to me, because, in all
seriousness, they do. I want to present myself and my church in a
good light, whether they be member or first time attendee. I have
learned several skills that will help when I work while attending
college, but more importantly, I have learned to handle high
intensity situations, work under pressure, listen to fellow workers,
work with a team, communicate what is needed, and be an exemplary
employee; which is what we are all working toward in a sense. For my
future, I plan on becoming an athletic trainer and to do so I need to
take many science classes in college. These classes will require
memorization of body parts, functions, etc. Also I will need to
remember certain processes to perform on injured athletes. Whether it
be wrapping an ankle, taping a wrist, knowing which stretches to
assign or rolling out calves, volunteering in my position as a
barista will help with my future career through how I interact with
customers. The athletes I will train will be treated like they matter
and are important to me. While my position is not probably going to
change the world, it changes my community, which will continue to
change others, which will in turn change the world one café at a
time. However many years it will be until I return to my church after
college, I hope I inspire the people I work with now to continue our
tradition of an amazing experience for everyone.