Name: Hannah Knodel
From: Muncie, IN
Grade: 11th
School: homeschool
Votes: 66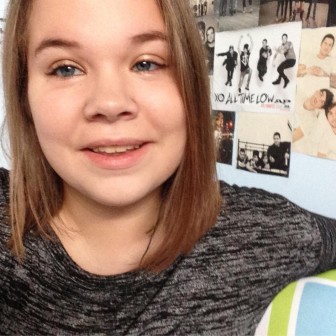 Changing
Lives Through SERVE
In June of every year, my church puts on a huge, week-long event called SERVE, where the youth stay at the church all week. During this week, hundreds of youth pay money to serve the community. Projects can range anywhere from roofing a house to sorting clothes at the local mission. It is a week full of hard yet rewarding work which culminates in a huge party for the community. The party is in our church's parking lot and has free food and inflatables. It is an event that truly brings together the whole community.
Personally, I have helped on many different projects during my years of SERVE. My very first year I helped to roof a house. While we were supervised and helped along the way, it was us teens who did the majority of the work. We were able to bless a family that desperately needed it. Another year, my team painted two houses for elderly individuals unable to do so for themselves. This was just one of the many teams of youth who went out into the community to help.
While service is the most important component of the week, we are also able to minister to those who need prayer for their various situations. One of my favorite memories from SERVE was praying for an older lady who had just been released from the hospital. She lived alone and was delighted to have people who cared enough to want to listen to her story. We invited her to the party and she was so happy to be invited, telling us that she would invite her friends and their
grandchildren. As I've said before, the event truly brings people together.
Not only does it bring the community together, SERVE is such an awesome way to connect with other teens at the church/youth group. I've met some amazing people, and grown closer with my best friends. There is nothing better than working together to get the job done with a smile. There is also nothing that brings people closer together than lack of sleep and nice places to shower. Lacking the comforts of home is one of the most challenging parts of SERVE, but it is good to know that all of one's friends are in the same boat.
This coming summer will be my last year of SERVE as a student. Though I am sad, I am incredibly excited for the next chapter in my life. Participating in such an impactful event has taught me how important it is to get involved in volunteering in the community, whether it be with your church or a local civic group.

I am planning to actively seek out opportunities to volunteer while I am at college. While it may be difficult with adjusting to a big step in my life, giving back is something important to me that I want to continue. I believe that I have helped to make a difference, and perhaps it will not matter in ten or twenty years, but it matters now. People in my community have felt the love of my church and have seen that love in action, and I think that will last.