Name: Evelyna Homchanh
From: Hazel Green, AL
Grade: Senior
School: Hazel Green High School
Votes: 13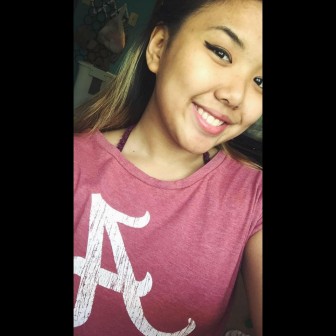 Changing
Lives by Evelyna Homchanh
Volunteering to me means giving back to your community without spending money, but spending a little of your time making someone else's life better in some shape, way, or form. When I see someone smile out of pure joy and knowing I did something to create a little part of that smile gives me the greatest feeling in the world. To me it's not about the service hours or how it will make me look, personally that's just a bonus. It's really about appreciating and understanding other situations outside of your own. You get to be apart of creating a better atmosphere.
My first time volunteering was Burritt on the Mountain. Every year they put on a different event and within each event there is a theme that requires you to dress the part. They do these events as a fun learning experience for the kids of all ages to gain a little bit of knowledge of that time period, the animals, and the activities that kids did during that certain time. Although, it's suppose to be an educational learning experience for the kids it was more fun for me to interact with them, tell them about all the fun facts, and answering their questions. I actually put my name down for multiple things and I was very cooperative with the staff. For example, if they needed me in a different area, I'd learn what my position is and I would perform my task. I also helped bake cookies for the nursing home that we were going to visit and I helped put together stockings that were to be donated. I am also a current FCCLA Vice-President at my high school and currently helping come up with ideas that our group can go volunteer and visit at.
When I volunteered it would typically be from 9am-4pm at the latest. I volunteer every time I have the chance or every time Burritt contacts my teacher which is about 2-4 times each year. With volunteering I learned that I should have a lot more respect for the people that put together great volunteer programs because whether they know it or not, they are making a difference in the youth. You also learn to form leadership skills which is great for your future. Forward looking to me means looking beyond what you're capable of doing and going out of your comfort zone to do something you'd never thought you could do. I hope to use what I have gained while volunteering and apply that to my future.
If I came back ten, twenty, or thirty years from now I do believe that volunteering did make a difference in someone's life. That very person that I helped or that someone has helped could've made a difference in another person's life, that alone may have caused a chain reaction in youth to go out into the community and make a difference.