Name: Madeline Ballard
From: Chapin, SC
Grade: 11th grade (junior)
School: Chapin High School
Votes: 0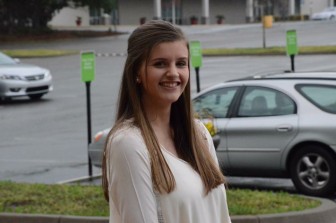 Changing
the World One Step at a Time
I believe that God has called everyone that believes in him to serve
people. I have found infinite amount of joy from volunteering with
the second and third graders that attend NewSpring Church in
Columbia, South Carolina. Their goal is to be able to teach children
about Jesus and his love for them on a level they'll understand.
NewSpring holds an environment where relationships can be formed, and
those relationships will allow children to love church and Jesus.
I spend two hours every Sunday loving on the children that walk through
the doors. Being a volunteer, I am expected to play with the
children, make them feel welcomed, and show them Jesus. We have time
set aside for large group with every elementary student, then we move
to small groups where I follow the lesson by reading the bible story
for that week and play a game. After the main service is over, their
parents start picking up their children. After every child has left
we clean and re-stage all the toys for the following service.
My biggest challenge would be feeling that I'm not making a difference.
There isn't always a visible change in the children from week to
week, so it's easy to think what I'm doing isn't making a difference.
What keeps me going is knowing, because I take time to invest in
these children, they will grow up knowing Jesus loves them. They can
hold onto to that at home, school, or wherever they go, where they
might not feel loved or valued. Knowing this makes every misbehaved
child or mess cleaned up worth it. I have learned that not every
child comes from the same walk of life or home environment as me.
Jesus loved all, and I should portray that in my daily life.
Growing up I've always loved playing with younger children. Starting to think
about my future career, I've discovered that I want to pursue special
education. These children have exposed me to many types of people,
but it has also allowed me to get some incite on to what it's like
trying to get a point across in a learning environment. Being
involved with the youth at my church can be perceived as "forward
looking" because I'm not only involved because that's what I
find joy in, but it's helping mold me into becoming a great educator.

By volunteering, my goal is to teach children about Jesus, so when they
realize that Jesus is the only one that can save them, they have a
place and family to come to with any questions. My actions might not
change the world physically, but it will help lay the foundation for
Jesus to change the world through everyone who follows him. If I came
back in twenty or thirty years, I do believe that I would see that my
actions would've made a difference. I would see that the children I
loved on loving on and teaching the next generation about Jesus.