Name: Stanley von Ehrenstein-Smith
From: Poway, California
Grade: 11
School: Poway High School
Votes: 3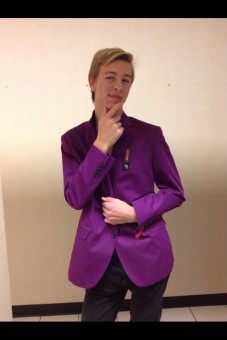 Character
Counts
I was in elementary school when we were visited by a charismatic, outgoing, and kind group of students, called the Titan Ambassadors, for an assembly.  I knew that I wanted to be a part of this elite group, and was overwhelmed with joy when I was selected to become a Titan Ambassador as a high schooler. I prepared myself for this commitment and devoted four hours per week of my time throughout the school year, with the goal of designing powerful messages for our upcoming assemblies and escapades to the elementary schools. In this position, I serve as a role model and a leader to my peers, teachers, and most importantly, to elementary school students.

            As a Titan Ambassador, I represented Poway High School and visited elementary schools to teach children the importance of character, living a positive alcohol and drug-free life, and showing children that high school is an exciting period in our lives.  We would put on hilarious skits for the students to entertain them and engage them so they received the messages we were conveying.  As rewarding as it is to impact the lives of younger students, the responses that we received from their parents and teachers made the endeavour worthwhile.  I could tell from the beaming faces of the parents how grateful they were to have high school students portray a strong system of values for their children to look up to and abide by.  They thanked us for the time we put into making our eccentric skits, and for being a positive force that will resonate with their children.  I would feel accomplished, knowing that I had impacted the lives of many due to my confidence in the life I live.

           Titan Ambassadors are chosen based upon their kind-hearted nature, dedication towards the creation of a positive environment, and for living an outstanding moral lifestyle. I take pride in my achievements and behavior, as I am now held to a much higher standard than the typical student. But, students can be spiteful, and multiple high schoolers feel the need to spew derogatory remarks towards the Titan Ambassadors, spreading false and offensive rumors about our lifestyles. Naturally, I was hurt about these ill-mannered comments but I reminded myself that there could always be somebody that will try to bring my attitude towards life down; I knew that there was no way I would stoop to that level or compromise my confidence due to the negativity that surrounds certain people. I learned to become more resilient and celebrate my unique character rather than falling victim to the false speculations.
Due to my commitment as a Titan Ambassador, I felt as if I was affecting a new generation of students.  With every school I visited, I left a positive message to live life with strong morals and a strong character.  We improve our community by preparing younger
generations to distinguish themselves from negative forces, and to form a life that is productive, ethical, and happy.