Name: Dominica P. Moussoki
From: Richmond, TX
Grade: 11
School: L.V. Hightower High School
Votes: 0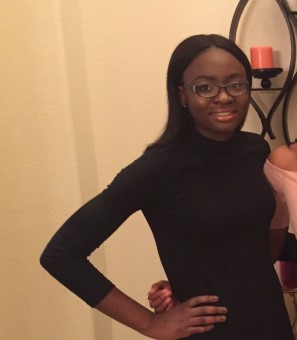 Of the two occasions that I had visited Sugar Land Town Center, one was life-changing. The day began around nine a.m. with the lowest temperature of the season; nonetheless, town center was flooded with hundreds of overexcited children. I was
in a group of about 15 other people, all teenagers from the Youth in Philanthropy organization in Fort Bend. Our goal that day was to help The Rainbow Room host a free winter event for children and families. My small team and I were assigned to the face-painting booth, which was undoubtedly the most popular and most enjoyable volunteer experience I've ever had.
The event itself was even more amazing to be a part of. And after five hours of face stencils, brief pauses to warm my hands, and a mess of glitter, I was able to learn exactly what it was I was contributing to. As the day came to a close, the sponsor took us to the steep stairs that led to town hall where we sat and listened to the purpose of the organization. She explained
that The Rainbow Room was a non-profit organization meant to provide young children coming from difficult households with the bare minimum necessities for daily living. This includes diapers, formula, toothbrushes, clothes, and even food. The organization really touched my heart, because it was geared toward innocent young children, who would otherwise go on with nothing. The children and sometimes adults that would receive help from The Rainbow Room would include those who were removed from a rough home and brought into the care of social services, often times it would be urgent, and clothes on their backs were all the items they possessed.
As she concluded her speech, the representative introduced us to her son, who she had encountered and adopted through this organization. I have never seen a child happier; he was about five years old, full of life and plenty of energy. He was eager to greet us and even more eager to play a game of tag. Within minutes I was out of breath, but I was unbothered because of the joy it brought to the little boy; and after a long day I had never felt more proud to be a part of something greater. Volunteering will never simply be a past time from my youth. I plan to continue this into my future because it is the best way to inspire internal
growth for myself, while at the same time, supporting communities. Community service on its own is a mind-opening selfless opportunity, it is the best way to harbor hope in someone's life, and the impact is extraordinary.