Name: Sidney Gregorek
From: Schuylerville, New York
Grade: Sophomore
School: Schuylerville High School
Votes: 0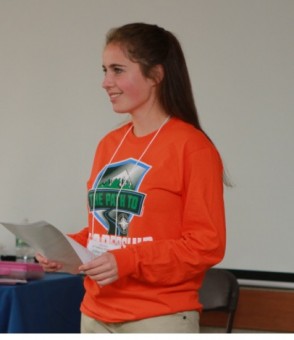 For over 3 months, I have been a volunteer coach for a local
recreational soccer team for kids aged 4-6 years old. I chose to do
this on a whim when one of my close friends asked me to co-coach with
her. I am on my high school's varsity girls' soccer team, and the
idea of teaching someone else how to play my favorite sport for their
very first time was an opportunity I could not pass up.
With one practice and one game each week, I volunteer as a coach for
about 2 ½ hours per week. Without an adult to assist us, my friend
and I took on all the responsibilities of being a coach ourselves. We
do it all; staying in contact with the parents, coming up with and
executing plans for practice, and even running around a tiny field
for an hour trying to convince 5 year olds not to pick up the ball
with their hands.
The biggest challenge that I have faced as a volunteer is the
occasional negative comment from a parent or guardian who forgets
that we are two teenagers coaching a recreational team for
kindergarteners, not the Olympic team. The kids, however, make it all
worth it. Watching them progress has given me the most satisfaction,
not only as a volunteer, but as an athlete in general. At the first
practice, every boy and girl hid behind their parents and was unable
to kick the soccer ball without falling over. By our last game, every
shy kid had come completely out of their shell and was beginning to
actually play the game of soccer and (mostly) following the rules.
Although I was the one coaching them, I could write an entire essay
about all of the things these kids have taught me. Perhaps the most
important thing I have learned is that if you pay close enough
attention, kids are the ones who are teaching the simplest but best
life lessons.
I have always known that I want to become a doctor, but these kids
showed me that working with kids specifically is what I would like to
do. To me, forward looking is as simple as one of its synonyms –
progressive. That is exactly what my volunteer work is. However, it
does not matter to me if these kids choose to never play soccer
again. The most important thing is that they learned the value of
progress, and the even greater value of the small achievements that
accompany progress. I wish I could put into words the look on a
child's face when they score their very first goal or learn how to
kick the ball for the very first time. That look of pure excitement
and pride is what assures me that while I may not be changing the
world right now, I have had at least a small impact on the lives of
11 boys and girls who could very well go on to change the world.