Name: Briana Variste
From: College Station, TX
Grade: 12th
School: College Station High School
Votes: 0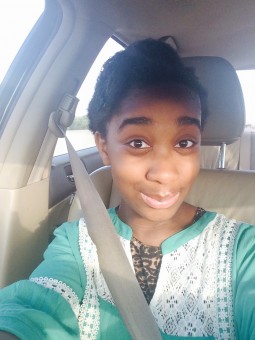 Briana
Variste
Community
Service takes Dedication
According to Merriam- Webster, a dedication is classified as officially make (something) a place for honoring or remembering a person, event, etc.. One major component of my dedication is being a leader to others. In my church I'm consistently a leader with the Bus Ministry, Sunday School, and Outreach in various methods.
For me to be an effective leader with the Bus Ministry it requires certain traits. I'm currently doing the Bus Ministry at least two
times a month, and it takes about an hour each time. In the past there were several times we were running late and many kids would
start complaining because they felt they were missing out. The first trait is accountability because the kids are depending on me to pick
them up. Secondly, it requires promptness because it's important to be on time so the kids are not late. In the past we would wait for
kids that were not yet ready, but as a leader I had to make the decision to move on to the next child. I realized that it was not
fair to make everyone late because of the few that were not ready on time. This describes how being a leader with the Bus Ministry require accountability and promptness.
In addition to the Bus Ministry, Sunday School also requires specific elements to be a successful leader. I'm in charge of Sunday School every Sunday for an hour. My first role is that I must be organized by having my lesson assembled beforehand. Secondly I must have a love for people. For example, when I was a sophomore, my brother and I would stay up late nights to have everything prepared for the lesson. This situation helped me learn one way to express my love for the kids in Sunday School is to make it a priority in my life.
Lastly, I'm always involved with my church Outreach. Outreach is when we pass flyers out to people, neighborhoods, and the community every Saturday. Before we go out and reach, we pray in order to be directed in the right place for people. It is very important to know the area before you go, therefore you're not wasting time to minister to people.

            In conclusion, I feel that my dedication is parallel to the elements of a leader. The elements of a leader consist of accountability,
promptness, organization, and a love for people, I demonstrate those elements in my participation with Outreach, Sunday School and the Bus Ministry.