Name: COLIN ROBINSON
From: BALDWIN, New York
Grade: 11
School: BALDWIN SENIOR HIGH SCHOOL
Votes: 0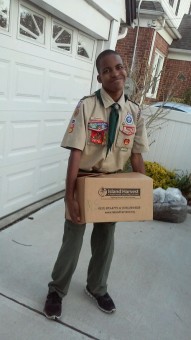 Deaf Can Do It! Such is the motto of the deaf school I had the distinct honor of volunteering for last July. I spent thirteen months planning, leading and executing a major volunteer project for St. Christopher's School for the Deaf located in Browns Town, St. Ann, Jamaica, West Indies. My father is a native of Jamaica. As such , I have traveled their several times. During my visit to Jamaica at the age of thirteen, I decided that I should do an Eagle Scout Service Project in Jamaica for the school. When I visit the school, I toured it's library and could not believe my eyes. I had more books in my bedroom than they had in the whole library which serviced 60-100 children age 2-13, deaf and hard of hearing. I thought to myself, why is it that some have too much while others lack? It just didn't seem fair! I wondered if I could accomplish my ambitious goals with what seemed visually to be an insurmountable task. But I have been taught by my parents a Jamaican saying that nothing beats a failure but a try.
Despite naysayers, I was successful at soliciting, collecting and shipping seven barrels filled with children books, school supplies ,toiletries, sign language books, CD/DVD's, flash cards, paint cans and paint supplies, garden tools and a laptop to the school last July. There is a greenhouse on the property which the children use to study science , grow their own meals and sell the surplus to vendors for profit. The principal, Mrs. Harris is also hard of hearing. I had to overcome many obstacles especially being a teenager "begging" for the deaf. Some donors did not take me seriously. Understandably others did not trust that I would even deliver the donated items as promised. After all I an a child in their eyes. I understood but was determined to show them that a boy scout is trustworthy . I found it most challenging trying to effectively communicate with the deaf population in general. I had to use email to communicate with the principal.When I visited the school , I had to learn to speak at a lower tone because the deepness of my male voice somehow "affected "the principal's ears when I spoke to her. I had to be mindful as I interacted with them.
When I interacted with the children, I found myself using a lot of hand gestures. Suddenly I was impaired as well. It was difficult to communicate . It forced me to come out of myself and enter into "their " world. A world of which seemed foreign to me. At first it seemed strange, but then I understood. I was fortunate enough to be invited by the school's principal ,Mrs. Harris , to the school's annual graduation ceremony last July. I was shocked to see the children perform a complex dance routine by feeling the vibrations of the music on stage. As the moderator spoke of and used sign language to describe the students achievements we clapped in excitement to encourage them not realizing that they could not hear us. Instead of clapping loudly, we were '"taught" to put our hands in the air and shake them vigorously so that the children could "see" our appreciation. A mind opener indeed! I noticed that the children never stopped smiling even though they were hearing impaired and lacked what they needed . The children hugged me and were obviously curious about my world as well. I communicated with the children via a translator. I couldn't wrap my head around the fact that their world was full of happiness all while being" silent".
Throughout the the ceremony the moderator highlighted the children's accomplishments and stressed the importance of "Deaf Can!" As you enter the school grounds , the very first thing you see is a huge sign that states-Welcome. St. Christopher's School for the Deaf. DEAF CAN DO IT. The school's motto is also seen written in the tiny school library. When I returned to New York, I received an email from the children. The email contained a picture of the children in their newly painted, restored ,overstuffed library holding their favorite books and used the sign for "thank you". I was touched and sent them back a picture of myself at my desk holding the same thank you picture they sent me. I told them how they changed my life and that I would keep that picture at my desk to encourage me in my studies . Hopefully it will encourage them as well to see that someone cared for them. I came away with a renewed spirit to face the challenges of the upcoming school year. My motto is now theirs – If Deaf Can Do It …Then I can Too!