Name: Genesis Lisbeth Corado
From: Arlington, Texas
Grade: 12
School: Lamar High School
Votes: 0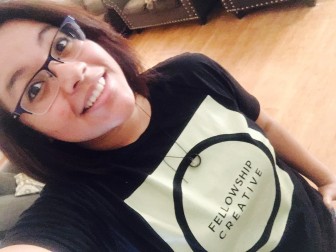 Genesis
Corado Corado 1
2
November 2016
Dedication
in Volunteering
Volunteerism, in society, is an act of generosity of involving ourselves with those who are in need of aid. Areas of volunteerism can be found in homeless shelters, school events, workplaces, animal shelters and many others. Servicing in these areas not only benefits the one in need, but it benefits the volunteer as well. Being a volunteer adds a skill to one's ability, especially in areas that brings discomfort to them. Mentally, volunteerism brings more growth and change in maturity and personality.
About a year ago, I volunteered at Fellowship Church as a greeter and a member of the connect group for the youth, known as The Mix. I volunteer for four hours on Sundays and about an hour and a half on Wednesdays. I decided this on my own, when I realised as a teenager, I was very introverted and reserved that I became anti-social. In general, it is normal for a teenager to be introverted, however, socializing with my family was quite difficult. Joining the volunteer work, I was quickly put into discomfort, it was odd for me to speak to others without being awkward. Gradually, with enough courage and repetition, the discomfort modified itself into a hobby within a month.
The difficulty I have as a volunteer was introducing myself to a complete stranger that may or may not want to be talked to. As a member of the connect group, it is my objective to speak to anyone that may be new to the church or that may not be socializing with others. The satisfaction I receive from volunteering is getting to meet new people and allowing me to become their friend to "open up" to.
            As a volunteer that serves for a year, I learned that being social and friendly with others shouldn't be discomforting, regardless of age. Currently, with the growth and skills I've gained from these experiences, I'm able to speak to others without any hesitation,
especially with my family.
In the future, I do vision myself in a career field that involves volunteer work, such as the medical field, I do believe this area
will be a career I'll enjoy to be part of. "Forward looking", to me, is a term that is used as dream or vision of the path I'm willing to take to achieve my goals. The change that I would love to see in the world by acting upon volunteer work, is others not belittling and strengthen those who are in need. If I were to come back in ten or thirty years, I will give the benefit of the doubt that volunteer work will make a difference in the world. However, that is up to the population to be fully committed to caring for others, I believe that once the population have a generous mindset and take matters into their own hands, others would be filled with content.