Name: Mecca Killingsworth
From: Carson, California
Grade: 11th grade
School: AEE @ Carson High School
Votes: 0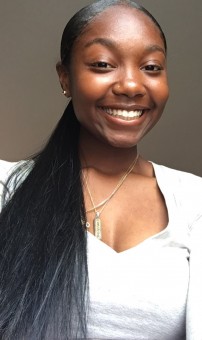 Mecca
Killingsworth
Disease
Can't Hold Back Dreams
At age 12 I was struck with the horrid news that I had a disease called
Nephrotic Syndrome. This disease is surely nothing to play around
with. Nephrotic syndrome is when your kidneys leak protein and cause
swelling to say the least. Once diagnosed my spirits were extremely
low and I felt I would never be able to return to my normal child
life. With the help of my family and members of the NephCure
foundation I was then able to see this might just be a slight bump in
the road that I can either deal with or let it be the thing that
enables me form reaching my dreams. I have currently been in
remission for 3 years and has made it my duty to give back to the
Nephcure foundation as often as possible. I assist with seminars and
run/walk events to name a few which raise money for research in
efforts to finding a cure. At these events I uplift the children and
tell my story and give them some hope that disease can be treated and
go away. This isn't an easy task because just as I once thought
many feel this disease will be the thing that restricts them from
participating in day to day activities. Yet somehow I'm able to get
through to the children and show them if you follow the doctors'
orders and say away from stressful situations you can fight head to
head with the disease and it could go away.

My single contribution of time to the NephCure foundation changes many
lives. My doctor being one of the head pediatric kidney doctor's in
the U.S. often refers to my story as inspiration to young adults to
instill in them there is hope. I enjoy using my story to uplift
others just so they know they aren't alone. And although they have
been diagnosed they could use the disease as further motivation to
complete goals. Showing that having a chronic illness will not stop
me from reaching any future goals. It is taken as inspiration in fact
seeing that you have all these things going on in your life but still
handle business that will benefit you in the long run.