Name: Tyler Richey
From: Hudson, OH
Grade: Junior
School: Hudson High School
Votes: 29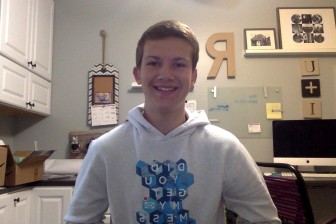 It is hard to believe the number of people who asked me, "Why the heck would you
want to go on a mission trip to your own backyard". I'm sure for
most people, spending 10 days of their summer in downtown Akron, Ohio
does not seem fun. I, however, thought otherwise. During my time in
Akron, I worked for a ministry called Urban Vision, which provides
after school programs for children in need. Too often we overlook
the diversity in our own community. At Urban Vision I was able to see
a previously undiscovered side of Akron and, through my experiences
there, I saw how truly diverse and beautiful my own community was.
Realizing this, I continued to volunteer at the Akron-Canton Regional
Food Bank and Urban Vision. If there is so much to learn from my own
community how much more can I learn from the diversity around the
world?

The year prior was my first experience outside of our country. My
youth group spent a week in Haiti, the poorest country in the Western
Hemisphere. That trip was life-changing for many reasons, and the
person who had the greatest impact on me was Nike. In such an
impoverished country, I did not expect to see anyone well-nourished,
let alone a body builder. Getting to know Nike, I came to realize
that his lifelong goal was to be just that and he benched over 300
pounds. His determined spirit despite circumstances is something I
have tried to model in my own life. Haitian people are so different
than Americans – despite not having as much wealth, they remain
welcoming and it was easy to see a purer side of humanity through
them.
I also saw humanity differently on a mission trip to Poland this past summer. We went to Poland for two weeks to lead an English camp. I really wasn't sure
what to expect. Poland, like America, is a first-world country so I
assumed that it would be similar. There is nothing further from the
truth. The most surprising difference was they do not serve ice in
their drinks. Despite the small cultural quirks and our language
barrier we were able to communicate on a personal level. We played a
Poland versus America volleyball match. Polish people take volleyball
very seriously and were able to destroy us every time we played.
Instead of using that to prove their superiority, they wanted to help
us improve our skills in order to impress our American friends back
home. That was the greatest example of how humanity comes together
despite the differences keeping us apart that I have seen.
Through my many trips I have come to realize that people are people – it doesn't
matter where we are from or our background. Diversity didn't just
impact my life; diversity is my life. I saw that truth in my
community, in Haiti, and on the other side of the world in Poland.