Name: Teddy Russell Holland
From: Wilson, NC
Grade: Junior
School: James B. Hunt High School
Votes: 0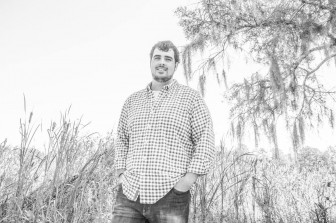 Do Unto Others
By: Teddy R. Holland
The "Golden Rule" and words from Matthew 7:12 say, "Therefore all
things whatsoever ye would that men should do to you, do ye even so
to them: for this is the law and the prophets." The main area in
which I choose to volunteer is in my local church. I once was a quiet
and shy young man and still at times, am. I chose some time back to
help where asked and needed and to be the hands where there is
prospect, purpose and need. I wanted to make a difference in someone
else's worship time at church. I wanted to make Sunday morning's
easier on our pastors. I wanted to help!
The first opportunity that I was approached with was assisting with the
sound, presentation and light needs during worship services on Sunday
where I'd spend roughly one to two hours a week assisting. Since
then, I've begun learning the Bass guitar and playing in our church
band. With practice and performance, I spend approximately 3 hours
per week playing.
My responsibilities as a volunteer in these roles are to be prompt in
attendance, follow instruction and present to church in a manner of
announcements or music. While doing so, the biggest challenge yet was
facing the fear of standing in front of the entire congregation and
playing an instrument that I am just learning to play. In the early
stages, I would be filled with anxiety and fear that I would make a
mistake and others would notice. I continued on serving God and my
church and with time, I realized I had control over the performance
and what I was doing was pleasing to myself, my church and most
importantly, God. I've learned through this that there is nothing
wrong with being quiet and shy however, many times, we need to push
ourselves to do other things we may not initially be comfortable
with. This allows us to grow into our better selves.

As I enter college and hopefully into the criminology field, I hope
to continue volunteering both within church and within the community.
Law Enforcement some years back went towards a "community policing"
approach to establish better relationships within the community,
build trust and be a positive influence. I too, want to be a positive
influence and build trust and respect where I can in my community. I
want to be a part of a changed outlook with regard to law enforcement
and every gender, race, etc. I desire to be that change and lead by
example so that hopefully others would take part and do the same.
I am thankful for parents, family, friends and my church family that
show the importance of being a volunteer and helping others in times
of their need. I do not think that I'd be the man that I am today
nor the man I strive to become without the opportunity to help where
needed, assist with the less fortunate and do unto others as I'd
have them do unto me. I always wonder, if I were in their shoes or I
needed help, would someone stop and help.