Name: John Dawson Chance
From: The Woodlands, TX
Grade: 11th
School: The Woodlands High School
Votes: 0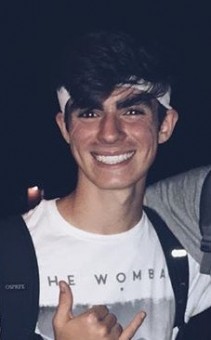 John
Chance
October
31, 2016
East
Texas Dreams
I live in the Woodlands. About an hour north of Houston, Texas. I travel down there almost every weekend to volunteer at a myriad of
organizations that work to end homelessness in Houston. There's no specific reason that I chose to help the homeless, I just knew I
wanted to help people, and Houston gave me the resources to do just that. More specifically, organizations like H.E.L.P. Ministries and
East Texas Dream Center.
Over the course of six years I have accumulated about 3,000 hours down in the varying Wards of Houston working to keep adults and children alike off the streets. This is accomplished in many ways: first and foremost being my involvement through my local church by performing mime and drama skits to whoever wants to see. These can be in designated churches, buildings, and auditoriums, or even just a surprise performance on the side of a busy street. My biggest responsibility being training the group of junior high schoolers and
fellow high school peers who perform alongside me!
Challenges exist outside of these shelters, however. Whether that's lack of resources or just trying to convince a 17 year old kid that he needs to be off the street. Sometimes my voice just isn't heard. This results in a disheartening situation where volunteers and I realized
that we could literally spend our entire lives in the city and never even make a dent on the homeless population. No matter how many care packages, food supplies, bibles, jackets, or job opportunities we push out, there will always be men and women filling the streets.
It's easy to let that attitude permeate ourselves and affect how we work. But once you look that one mother of two in the eyes and see the tears welling up, you realize that you are making a difference. My greatest satisfaction will always be leading a teenager to accept
Christ as their savior, and when I went into Houston a month later, I found that he had his own place, job, and traveled around Westheimer performing with the church band. I realized that these people weren't just objects that took the sack lunch and disappeared. They had lives, families, friends, and opportunities. Serving has taught me that if I spent 60 years in Houston giving and serving and it only affected one kid, it would have been worth it.
Serving has made me conscious of what I want to do for the rest of my life and it has had a definitive impact on my career. I used to be in Engineering for the money. But now, I pursue that path with the plan to leave it at one point and begin a nonprofit for inner-city kids
who aren't getting the education and resources that they need. This is my definition of forward looking. And in thirty years, I hope to
be doing what I am doing now, helping people.