Name: Emma Bartram
From: Burbank, CA
Grade: Junior Year
School: John Burroughs High School
Votes: 156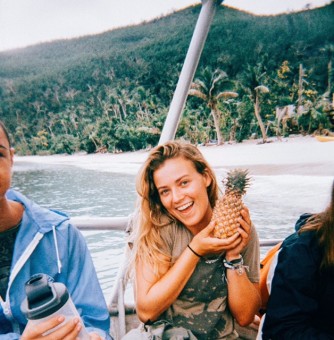 This past summer I earned a scholarship that allowed me to travel to Fiji for three weeks to help rebuild after a devastating cyclone. During my time there, my volunteer group succeeded in building a water catchment tank, setting up a protected coral reef in the local village, and improving the local children's English. Each of these projects meant the world to me and being able to experience and feel the joy and gratitude the Fijian people had for us was incredible. The project I spent the most time on, was that of education. Every day I would step off the boat and be greeted by little hands tugging
on my skirt, "Bula Miss Emma!" They knew the drill: I would spend the first half of the day teaching English and the second half learning Fijian.
So without training or experience, I was in charge of the classroom. I was the only volunteer who became fluent in the language, so I became the default translator, which included the job of delegating tasks to my fellow volunteers.  At first it was not easy. Some of them wanted to be with older children or wanted to be reassigned outside the classroom, but I prioritized based on the children's needs. I wanted to make sure these kids were in the best learning environment possible. The Fijian children were bright and wanted to learn, but school wasn't an option for many of them and many of their
parents faced pressing issues that left them unable to teach basic primary school requirements.
Being able to help these children with reading, writing, and math skills was an extraordinary experience that has inspired me to continue to partake in similar activities. I believe education is one of the most important things in the world and I hope to follow a career that allows me to travel and make a difference through teaching. To me, forward looking means making a change that will make a difference in the future and I believe that what my volunteer group did in Gunu, Fiji will continue to make a difference for many years to come. The coral reef will continue to thrive, they now have access to clean drinking water, and the children have been taught skills they can continue to use throughout their experience in education.
After three short weeks I learned my strengths as a teacher, a mentor, a leader and a friend. A year ago I never would have envisioned myself stepping so far out of my comfort zone, but I learned that I am capable of that and so much more. I look forward to applying what I learned in Fiji in ways that I can better the world. It makes me sad to see such apathy for the problems our world faces today, but I refuse to sit around and watch all of it happen. During my life, I will continue to give back to the people and the environment in whatever ways possible.