Name: Melanie DeCastro
From: Pleasant Hill , California
Grade: 11th
School: College Park High School
Votes: 0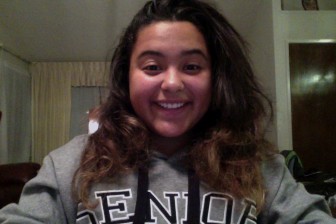 Embrace A Homeless Heart
I have grown up in a heavily populated homeless city, Philadelphia.
Walking down the streets I passed too many faces stranded, homeless.
I used to be afraid, confused, but as I realized the reality of their
situation I learned that I can give a bit of hope to their hearts. A
direct solution is giving money, but I am not a fan of giving money.
Money is greed, eyes light up with pure desire and want when a dollar
crosses their path, homeless or not. I believe in smiles, awareness,
attention, and necessities for the homeless.
My soccer team made hundreds of sandwiches to give the homeless during
an event for the holidays. It felt as extreme as though we were
saving someone from starvation. It was an uplifting experience.
I also volunteered at a dinner for the veterans. It was in the middle
of nowhere, a small crowded room. Veterans have stern, intimidating
faces, but as the day went on I was able to talk to some of them.
Breaking barriers, creating smiles, and making memories for both the
veterans and I. I learned that some were homeless, and some were
stable. Diversity exceeded in numbers and it inspired me. There was
one purpose in this meal, and it was to honor them. Homeless or not
the men were courageous to protect us from the dangers other people,
and countries impose on our country.
By junior year I moved to California. I was new, alone; I did not know a
soul but my family. I decided to join my church's youth group.
Volunteer opportunities came up and the one that caught my eye was
working at a thrift shop. I went to St. Paul one weekend bright and
early. It was cold and we were given a tour and directions:
Pick out winter clothes.
For four hours we sorted through all sorts of clothes. I was even tempted
in buying some clothes I found. Once the shift was over, the
coordinator came up to us to congratulate us. I asked him what he
wanted to do with the winter clothes; He said he is donating them to
homeless people.
My heart is warmed by kindness. Plenty of times I have felt the joy
people have when they are acknowledged. Being homeless is an issue
and I plan on being active and giving them support to get back on
their feet. Money can by the world, but hope can spark a future. I am
a firm believer that helping the homeless makes change. It spread
positivity and love the world lacks to give at times. I am sure that
I will continue to work with homeless people by touching their heart
with gestures a person desires more than money, affection.