Name: Sydney Cederboom
From: Augusta, GA
Grade: 11th Grade
School: Davidson Fine Arts
Votes: 0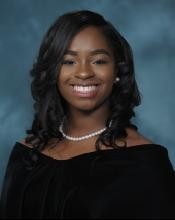 Since my first years in high school, I have always made a point to make sure that I am more than simply involved in my community. I am completely invested in ensuring that my impact on my environment can be seen whether it is through dance performances, tutoring students in academics, or volunteering at the Golden Harvest Food Bank. I spend no less than seven hours a week participating in some form of volunteering and approximately spend five hundred hours a year
participating in volunteer activities. I am an individual who constantly tries to exemplify strong leadership qualities in all
aspects of my life. I recognize the importance of behaving in a manner that is demanding of admiration from her peers, as well as her community. I have the ability to interpret ideas requiring the consideration of multiple viewpoints and make logical decisions for the betterment of all individuals within my community. As a member of various volunteer and community organizations, the ideal of citizenship and my in depth passion for the fine arts inspires me to constantly strive to ensure that I am able to have a direct impact on my community that is noteworthy.
              In this past year, I have recently begun reaching out to my local Boys and Girls Club in an attempt to establish a permanent program where students studying in the fine arts areas come and teach children about different fine arts and how crucial they are to the world in which we live. The program would consist of fine arts students from four selected fine arts areas coming to the organization once a month for a two hour period and providing children with experiences that will
come to shape their perception of what artistic expression truly means. Many individuals do not fully grasp the impact of artistic expression on the world today and it is becoming more and more imperative that we as a human race learn to take time and simply admire the artists of today.
My first attempt at establishing this outreach program with the Boys and Girls Club was conducted in March of this year. The event was used as an opportunity for juniors on my high school's student council board to achieve volunteer service hours. A group of approximately fifteen students came to the care center after school in order to provide the children with a brief presentation of a fine art of their choosing. We set up four stations throughout the center: one for dance, one for music, one for art, and one for drama. The children's ages ranged from first to fifth grade and they were divided into four different groups by age. I was in charge of the dance station with two other students from my school. We taught the kids various warm-up techniques such as how to stretch the calf muscles and explained to the children how crucial warming-up is to a dancer's ability to prevent injury while performing. Then we allowed the children to pick current ideas that they believed to be relevant in society today and develop a dance around these topics. The creativity these youth expressed through their movement was truly beautiful and even evoked certain emotions from both the youth and myself. In other fine arts areas, the youth were also able to express their inner emotions freely without be afraid that the ways in which they chose to present their ideas would be critiqued.

After asking the youth how they felt about the experience, I was extremely pleased to discover that not only did the children enjoy the opportunity, but they also began to show in depth interest in furthering their knowledge of the different art forms. Seeing this thirst for knowledge within the children was the only prove I needed to confirm that my volunteering had inspired children to pursue studies in arts programs. Therefore, my efforts had a definite effect on the youth of my generation that will last for ten, twenty, thirty, and possibly for infinite years to come. The youth of today have inspired me to push myself while pursuing higher education to also pursue the development of an organization having the sole purpose of spreading awareness of the necessity of maintaining the fine arts as a key staple in the community.
Outreach opportunities in accordance with the Boys and Girls Club Fine Arts Outreach Program are the defining parts of my life, as they allow me to have direct interactions with the youth of my community. Being a source of inspiration for the youth of my community places within my hands the remarkable responsibility, being that these youth are the future, to help determine what the world will become. Being able to relate and connect to people from all backgrounds on a level
that surpasses the superficial and goes deep into fully comprehending the struggles of all individuals from citizens below and above the poverty line, bares substantial importance to the person I envision becoming. My passion for being an inspiration to my community through artistic expression is reflective of who I have become as an individual and what drives me to be better on a daily basis.