Name: Kevin Camacho
From: Miami Beach, Florida
Grade: 12
School: Miami Beach Senior High
Votes: 0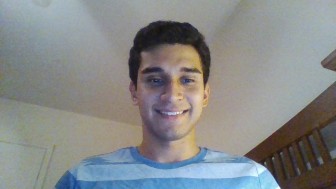 Establishing
Strength in my Community
Kevin
Camacho
7
October 2016
Doing
Service for the Better of my Community
Camacho
1
Helping is universal and it is all across the world. If it wasn't for helping the kid in the pool could've drowned, the person by the
rocks could've fell, or you just couldn't remember what was assigned for homework. You see it in social media, texts, movies, and
most importantly you can see it happening to you and others. I have always helped but where I realized I can do my best for others is
right in the heart of my community. I help the homeless in a small church area in Miami Beach. This has transformed my maturity and
behavior into a whole new level in which I can use in my future.
             I began from the age of eleven. I was at that stage where I didn't want to do anything boring and useless. In my eyes I felt like my mother betrayed me leaving me alone only for 30 minutes with people I don't know. Well those 30 minutes changed my whole entire life. I continued going and I didn't think of it that dull in the beginning, only those excruciating 30 minutes the first day. From
there on a youth group was created in Saint Joseph Catholic Church and I as, determined as ever, was taking part in that creation. With
this youth group we went to homeless shelters in Miami to help and feed the homeless. One of the homeless shelters we went to was called Camillus House, where we cooked and prepared food for the poor. From there on I felt like this group has made me create an impact on my community for the first time.
            Sometimes there were papers that we couldn't sign and places we couldn't go due to the insufficient funds we had. All of that didn't matter to me and I was only motivated to find a way to keep helping hundreds of homeless that couldn't afford to say no for an answer. We came up with fundraisers like carwashes and sales to have enough money to make food distributions right  in front of our church. From there on we were able to give food for the homeless and make days like Christmas a grateful gift. This made me feel gratified myself coming from a single child and only living with my mother. The ways she has raised me makes me compassionate to
others.
             Beside feeling determined to do this, there were those days where we had all felt tired but continued pushing. I had to wake up every Saturday morning around 7 AM. It was a relaxing ten-minute walk but I knew after that it was time to get to work. When I came we had to fill every bag with all sorts of goodies. Canned foods, veggies, sodas, and my favorite, dessert. Two bags were given to every person. By the time it was 8 AM, there was a huge line waiting in line just like when there are specials for Black Friday. There are many people you meet especially this one veteran that had his leg amputated from a bomb during the Vietnam War. It is difficult to see homeless people not to be given enough care to be taken out of the streets.
              Our youth group has been successful for almost 6 years and every weekend I still come to participate in amazing opportunities I couldn't do by myself. Putting in that effort is worth it when you see the results. Helping the homeless from my community has made me reach goals I had never had in mind to do. It had made me open my eyes wide to understand how the poor live today. Now I am older and I have gained knowledge of what I have experienced. I will continue to help others and teach the future youth my special powers for future generations to come.