Name: Tierra Taylor
From: Bellingham, Washington
Grade: College freshman
School: North West Indian College
Votes: 0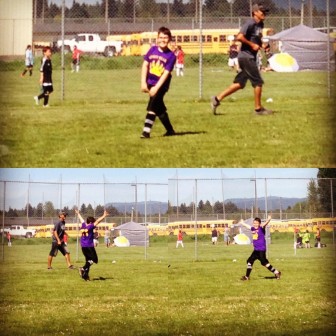 | | | |
| --- | --- | --- |
| September 23 2016 | Every child matters | Tierra Taylor |
Every
child matters
Throughout my life I have always found solace on the soccer field. No matter what stresses I encountered in my day to day life, soccer has always been my safe place. I started playing at the age of four and have loved the game ever since. So a few years back when I was kicking around at a local field with my baby sister, everything changed for me. Some kids asked us to join in, they had never played but were so eager to learn. This was the moment I decided it was time to give back to my own community. So that is when I started a soccer team for all of the under privileged kids within my own and the surrounding communities. I had never really appreciated the opportunities my parents gave us until that day on that field with those kids. Now I strive to offer this opportunity to every child. I started small, with just one coed team ages ten and under. I charged no fees, I paid for the uniforms out of pocket as well as field rental fees. As more and more children began to show up I realized that one team was not enough. So now I manage five teams, for ages three through sixteen, all coed. I now have a whole team of volunteer coaches, sponsors, as well as a whole fundraising team. Since going away for college I am not as present on a day to day basis as I have been in the past but I still manage the teams, organize fundraisers, line up sponsors and order uniforms. Another piece of my little organization is providing cleats, socks and shin guards to the
children who need them. In order to do this I search for all this equipment at the best price possible from vendors as well as getting donations from the community. I am still very active in the teams management spending several hours each week talking to parents, coaches, sponsors and working on new ideas for fundraising.
Also I spend every break back home running free soccer camps, as well as running practices and attending games when I can. Giving all children the opportunity to fall in love with the sport I have spent my life playing was my dream and I made that a reality. Now I have returned to school for business as I want to expand the spirit bears soccer association. Giving back to my own community fills my heart but I believe that every child deserves the opportunity to play soccer on a real level, no matter their parents financial situation. You will notice that I said " on a real level" this is because in my experience with soccer programs, you get what you pay for.
There formost affordable/ free soccer programs tend to be very lacking in actual skill development. It is my ultimate goal to give all children the opportunity to find their safe place. In order to do this i would eventually like to expand into offering other sports programs as well as art and academic ones.