Name: Brenda Ibarra Vazquez
From: Vallejo, Ca
Grade: 11
School: Jesse Bethel High School
Votes: 96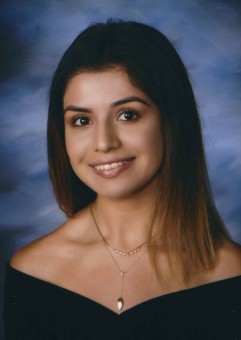 Brenda Ibarra
Vazquez
October 27, 2016
Although my school, Jesse Bethel High, does not require community service hours, I have found that volunteering gives me a feeling of happiness. This happiness comes from knowing that I am been able to reach out to community of Vallejo and give back for all of the experiences I have gained here. I volunteer at two locations right now, the first being the Kaiser Hospital in Vallejo, and the second location is my church, St Vincent Ferrer.
At the Kaiser Hospital, I volunteer at the main lobby, two hours per week, every Wednesday. My responsibilities as a volunteer are to be able to facilitate a hospital visit for visitors by guiding them to wherever they may need to go, and to be able to engage with patients as I am pushing their wheelchair to their destinations.
At St. Vincent Ferrer, I am a catechist to a group of 17 2nd graders. I lead their class every Monday from 6:15-7:30pm. My responsibilities as a catechist are to engage with my students and be able to teach them from our textbook called "Finding God." With having a class full of second graders my responsibility is also to try to keep a positive relationship with the children's parents, so that they may know that their children are safe with me.
As a volunteer at both locations, my biggest challenge has definitely been opening up to people, and getting to be more communicative. Before, I never thought that I was capable of being able to know so many people, even less being able to keep conversations going. Volunteerism has definitely opened up my doors of social life.
The thing that has given me the most satisfaction at both of my volunteer positions are definitely being able to face my fears, and also receiving the feeling of being content. Before being a catechist, I would doubt my ability to lead a class, but know I love it. Throughout the months, I feel that I have overcome many obstacles including my fears of being more open, and the satisfaction that I receive from conquering that fear is amazing.
From my volunteer Experience I have learned that anything is possible. Not only from the fears I have conquered, but from experiences I have witnessed being a volunteer. From a student in my catechism class telling me he started to believe in god, to a patient from Kaiser who, as I was pushing her wheelchair, told me how she overcame cancer. Others peoples stories have pushed me to believe I can accomplish anything.
If I were to come back in 30 years, I think that volunteering would "make the difference." To me, making a difference means to leave an imprint on something, where you are hopeful to effect someone the right way. I hope that whomever I encounter while being a volunteer will realize how much I love what I do, so that they may pay it forward.