Name: Colin Kummer
From: Hastings, MN
Grade: 12
School: Hastings High School
Votes: 0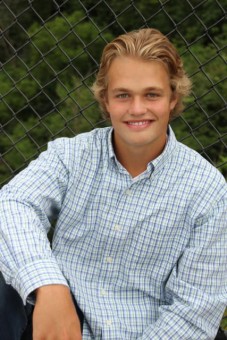 Colin
Kummer
Faith
Forward
Much of my volunteer time is spent helping with church events, more specifically, the confirmation program.  I was confirmed in April 2015.  I recognized all that the confirmation program had given to me; I wanted to give back and figured I could learn some things along the way.  I prepare lessons and teach a group of seven young men for 1.5 hours every other Sunday night.  I lead them through the confirmation curriculum and share insight along the way.  
My biggest challenge thus far has been getting the students to participate and open up to each other.  The most satisfying part of leading this group of young men is knowing that I have the opportunity to directly influence their lives with my thoughts and actions.  Because I am only two years older than the students, I am able to relate to them very well and my insight is fresh and relevant.  I mentioned that I learned a great deal through the confirmation program; however, I have learned even more by teaching it.  I have learned how to teach a curriculum while also relating to my students by sharing pertinent experiences from my own life.  I have learned how to lead a group, open discussions, provoke thought, and organize materials.  In addition to all of this, I have significantly expanded my understanding and knowledge of the Catholic
faith.  
My interest in the Catholic faith itself was taken to new heights during my time in confirmation.  I wanted to know more about why we practice and celebrate the things we do.  Catechism has helped me see my faith from a new perspective and has answered many of my questions. The lessons I teach and learn in confirmation are a way of life; they edify the way I want to exist and achieve.  Thus, catechism is indirectly aligned with all of my goals and decisions. Moreover, it has taught me how to be an effective teacher and leader.  

           To me, "forward looking" is one's wherewithal to visualize the future, know what needs to be done, and use their talents and abilities to prepare for it.  Confirmation catechism is forward looking because we prepare young men to become confirmed members of the church.  We teach lessons that can and will be looked back upon.  I give students a basis for all future decisions and actions, however large or small.  I seek to foster small changes that affect the way my students live out their lives.  I hope to teach lessons of kindness and love that will propagate and spread through my students and anyone they come across in the future.  I feel that the lessons I teach and the way that I interact with my students will indeed have a long lasting effect ten, twenty, or thirty years down the road.  I firmly believe that the lessons I teach and the example I set as the leader and catechist of these adolescents will be carried with them for the remainder of their lives.