Name: Bobby Ward Pendergrass
From: LINDSAY, Oklahoma
Grade: High school Junior
School: Lindsay High School
Votes: 0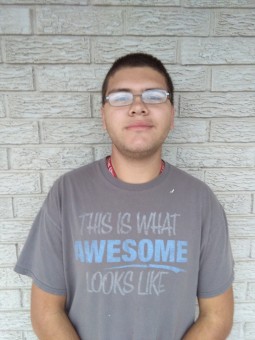 I choose to work at my local food bank, the Lindsay National Food Bank. I got involved with the food bank when a friend of mine asked for me to come and help him out one day and I decided that I need to help out more. I came to that decision when I saw how many people were in line for the food bags being given out. It broke my heart to see so many people from Lindsay and the surrounding area who needed food and the shock of how many kids where their as well.
I help out almost every distribution day, which is on the second Saturday of every month from nine AM to twelve PM, by pushing shopping carts loaded with food. I also help whenever possible to make the bags when the food shipments come in on the Thursday before distribution. As a volunteer I am responsible for getting the food to the precipitants car, loading it, and getting the shopping cart back around for the next bag of food. After all the food has been given out I am responsible for gathering all the shopping carts and putting them back in their storage area till next distribution day, helping take away empty food pallets, and all volunteers help clean the Methodist Church parlor where we made and stored the food bags.
I feel that the biggest challenge while being a volunteer at the food bank is when we have handed out almost all the food, and there is still three or for families standing in line, some with little kids. It saddens me when the last people come up and all we have is some frozen chicken and a sack of potatoes left for the mother and her two kids. I get the most satisfaction when the opposite is true that after the last family has left that the food bank has more than what was needed to give to the people. I means to me that there are good people donating food and I am not saying like a can or two I mean like a dozen or more. I like to think that means we have more love for complete strangers than most people think.
In my time volunteering I have learned that the people receiving food are truly grateful and honestly nice people. I want to keep helping these people and help feed the hungry. I want to do this because that is what the Lord commanded "whatever you did for one of the least of these brothers and sisters of mine, you did for me." I hope that when these children get older as they will and get jobs they will remember the charity that was given to them. Then they will have the reason to give food and help others.