Name: Joanna Abigail English
From: Duncan, South Carolina
Grade: 11th
School: James F. Byrnes High School
Votes: 104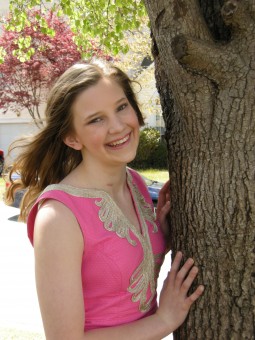 At the start of my high school career, all that seemed to be in the back
of my mind was grades and money. I constantly stressed myself out
over how I would pay for college or finish all the homework. A
turning point came in 10th grade when I started volunteering at
Carpenter's Table on Saturdays. Carpenter's Table is a non-profit
food pantry whose goal is to help people that are unable to buy
enough food to sustain themselves and/or their families. The
organization's goal is to help lower class people without
minimizing their dignity. The food drive occurs every Saturday from 9
a.m. to 12 p.m. I originally chose this organization to get required
service hours for my Leadership class, but now that I am done with
the class, I still help out whenever I can because it has become
something very important to me. I now realize that, although grades
and money are important, there are larger things to worry about
within my community. Carpenter's Table has shown me that there are
many people living right around the corner from me who wake up in the
morning not at all sure whether they will have enough to eat that
day. My jobs at the pantry vary; I stock the necessity bags, carry
people's bags for them, and occasionally I fill their bags with the
food items of their choice. My biggest challenge as a volunteer has
been to keep myself from judging others. There are quite a few people
that come on Saturdays who, by looking at how they dress and the car
they drive, do not seem like they need assistance from this charity.
I have had to keep myself from judging, because I have no idea what
hardships they are going through. I get the most satisfaction out of
volunteering when I am able to see that my small contribution of
smiling and carrying someone's groceries has made that person's
day. Through my experience, I have learned that hunger and poverty
are not just problems found in 3rd world countries, but are right
here in my own community near where I live, eat, and sleep
comfortably in my own home! I aspire to be a neurologist, and I want
to research how diet affects people with disabilities such as ADHD
and Down Syndrome. Helping at the pantry shows me that I do not need
to research the fact that giving people food makes a difference in
their lives beyond just nourishing them. I hope in the future that I
will be able to provide more information on why it is important to
eat right, and I hope to contribute in bringing an end to
malnutrition around the world. In the future, I hope to be able to
look back on my volunteer work at Carpenter's Table as the end of my
focus on my own comforts, and as the instigator of my desire to help
the world, starting with my own community.