Name: Zaida Zarae Chapman
From: Galva, KS
Grade: 12th
School: McPherson High School
Votes: 0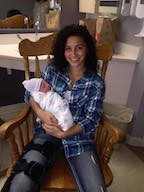 For
Our Future Generations
By:
Zaida Chapman
            The first time I volunteered for Vacation Bible School (VBS), I was
hooked right away. I absolutely loved seeing those kids faces light
up at 9 A.M. to learn, grow, and play with their friends. I was held
accountable for the preschoolers and needless to say they were the
best group of kids I've gotten to teach.
Once that first week of VBS was over, I went to see how I could stay
involved with these kids. My youth leader was generous enough to give
me information about the wednesday night school my church put on for
grades Pre-K and up. For four years, I was an assistant spending 2
hours a week for about 8 months at a time helping to broaden the
knowledge of the bible. During my third year, I ended up being the
only one who still wanted to handle our preschoolers so we got to do
everything I thought was important for them. I averaged 10-12
students every Wednesday. With that being one of the biggest
challenges I've gotten to face throughout this program, I cannot
have been more proud of myself and those children for still gaining
knowledge with one youth instructor there. As I volunteered once a
week throughout those 8 months, I still did VBS in the summer too.
Year four, we have about 6-7 instructors and 24 students.
The preschoolers are the ones who will be in charge of our future before
we know it. We need as much help as possible to encourage children to
be the best of the best. They should be very familiar with the bible
and they should respect the people around them. I get the most
satisfaction when I see the kids spreading their knowledge with
others. Knowing that these children can start out being ornery and
uneducated and end up being the most kind, smart, and respectful kids
has taught me just how important it is to have people wanting to
dedicate their Wednesdays to the ones who shape our future. Forward
looking to me is showing ambition toward the importance of the
preschoolers education. I hope that every kid gets the opportunity to
attend Wednesday night school and/or VBS because it really is life
changing no matter the age. It shows you why it matters that you are
kind and giving to others.
I have also volunteered at the food bank, donating food, an assisted
living during the holidays for five years, The Big Event, organizing
papers for the 4-H building, and cleaning out their barns, also at
the Legion, folding flags and cleaning up their batting cage, and at
the community building volunteering my Thanksgiving morning serving
and delivering meals.
I will continue my service throughout and after college. I believe that
this scholarship would benefit me so that I can volunteer more and
work less to pay for college.