Name: Allison Marie Oster
From: Lockport, IL
Grade: alli.oster133@gmail.com
School: Lockport Township High School
Votes: 118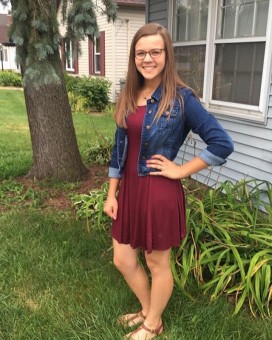 For
the Love of the Game
I believe that all people should experience something that gives them
as much as softball has given me. Without softball I would not be the
person I am today or have many of my closest friends. Through being a
volunteer softball coach I was able to give young girls in my school
district a place where they have a chance to get what I have gotten
out of softball. For some of the girls the softball team was the
first place that they experienced something that provides a place to
experience the love of the game.
Though I volunteered 5 afternoons per week for 8 weeks of August and
September, not a day went by when I dreaded the 2 hours with these
girls. Watching them develop athletically and socially was amazing.
I have been doing this for 3 years now and each year the girls never
cease to amaze me by their hard work and determination to be better.
This past season the team went undefeated until the regional game. I
was so proud of them because they fought hard. They bonded together
as a team and never looked back. Although they were down in the game
they never got down on each other or themselves. This showed how
close they had all become.
One of the biggest challenges I faced as a volunteer coach was the wide
range of abilities. For some of the girls it was their first time
ever playing softball for others they had been playing for years. The
older more experienced girls took the younger ones and helped them
and explained the game to them. Being able to watch the more
experienced ones also help and encourage the younger ones was beyond
amazing. I learned probably as much from the girls on my team as they
did from me. They taught me to keep pushing even when you are an
underdog and they showed me the impact that a person can have on
others. At the end of the year the girls were so upset to hear that I
probably will not be at most of their games because of college, and
they all ran up and gave me a hug. I never realized the impact I had
on these girls.
A "forward looking" activity is something that has an impact on
someone or something in the future. Coaching is forward looking, not
only did the athletes learn the proper way to play a sport but were
also taught a whole bunch of lessons on the way that will effect them
on their way through their adolescence. Years from now I hope that I
left a big enough impact that they will look back and remember all
the fun they had playing as a team. If they at least remember the fun
they had together as a team, then I did my job. I want to spread the
love of the game around the world, starting in my community.