Name: Adriana Macias
From: Santa Ana, California
Grade: 11th
School: Middle College High School
Votes: 0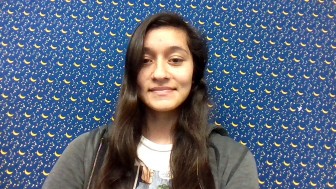 My name is Adriana Macias and I love to volunteer at my local senior center. I choose to volunteer there because I love interacting with people of different age groups. I am able to learn so much from people who may have gone through similar experiences as myself but handled it in a different way. I also learn of the knowledge gathered throughout their lives.
In a year I volunteer about thirty hours,I try to volunteer as much as I possibly can. My responsibilities as a volunteer is to interact and just have a conversation with the seniors. In most situations, the seniors hardly get any visitation from their families and can start to feel lonesome. I'm there to provide them some company and make their day a little better. I also help other staff set up the dining hall and pass out the meals. This is my favorite time because I get to see all the seniors who live in the facility and ask them about their days. There are even times when I get to have a break and share a meal with them. My biggest challenge as a volunteer is knowing what to do when a situation gets difficult. Some seniors can have problems with memory or are spontaneously cranky and I'm put into a situation where I'm limited by my abilities. For example, while I was having a conversation with a senior they requested my help with going to the restroom. I didn't have the experience to aid with the request and I told them I couldn't but that I would find a member who could help. They were agitated with my answer because they wanted to use the restroom immediately. I was taken aback by the hostility because the senior had always been so friendly. I got a bit nervous because I didn't want to upset the citizen but I also knew that I wouldn't be able to properly help them. I decided to quickly leave and find someone who had knowledge of what to do in this situation. This volunteering opportunity has been completely rewarding for me because I learn so much from the
senior citizens. They love to share their life experiences and explain to me what they have learned. They are happy to share wisdom with me and answer any questions I might have for them. Although volunteering at a senior center does not completely align with my major it does impact it in a sense. I plan on studying business and wasn't too sure how I would utilize the knowledge I gain from such study. However, I thought of how much I enjoyed helping others and being there for those who need someone and I figured I could implement that into my career. I want my business knowledge to benefit others not just myself. I love interacting with the seniors and trading my company for their knowledge.