Name: Lauren Phillips
From: Canton, Michigan
Grade: 11
School: Canton High School
Votes: 70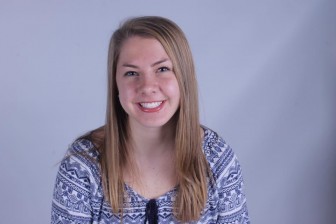 Groceries
for Goodwill
One crisp autumn day at the local food pantry, leaves crunched under my feet as I pushed forward a heap of groceries. Looking at me with glistening eyes, while I loaded ham, bread, milk and other foodstuffs into her trunk, a mother expressed eternal gratitude for my help. Her young daughters poked their heads over the backseat; they wore bulging eyes and smug smiles on their faces. This was the family's first time at the food pantry, and they were overwhelmed by the
geniality, thanking me many times over.
Being part of multiple service organizations provides me with countless opportunities to give back, however, I have most devoted myself to helping out at my local food pantry, Open Door Ministry. By providing the people in my community with grocery items, I am helping to diminish childhood hunger. I most actively serve my community in the winter months, volunteering once a week throughout the frigid season, for winter is a time for holiday celebration, family, and happiness;
nobody should be hungry. Upon arriving at Open Door Ministry, I am greeted by my fellow volunteers and assigned a position. Volunteer positions range from delivering carts of groceries to packing fruits and vegetables. At Open Door Ministry, everyone puts their hands together to make a difference. Frequently my responsibilities include designating different carts to various vehicles, distributing groceries, interacting with families, and cleaning up when no cars remain.

           In my time at the food pantry, I have learned how to be precise and work fast. This, however, sometimes creates challenges. On one evening, close to Christmas, Open Door Ministry was providing each family with a pie for the holiday. Unfortunately, as volunteers rapidly pushed carts to open trunks, the pies continuously fell off and broke on the cement.  Pie after pie fell to the ground; it was a catastrophe. We didn't want to give families broken pies, but we also deplored wasting supplies. Solving this, we worked in pairs; one person pushed the cart and another carried the dessert. This team effort is most satisfactory to me: the way strangers unite to help others. The smiles and thankfulness that we proudly receive is impossible without teamwork.  It makes me believe that I can accomplish anything and to not be afraid to ask for help. I learned to be grateful for the small things in life: the hugs from my parents, the granola bars I grab in the morning, and two jobs that I have.
Hunger is a continual problem in the United States and in countries worldwide. My actions in forward looking activities such as my service at the food pantry assist in reducing hunger in my community. Forward looking means benefiting future generations and causes. I seek to raise awareness of hunger globally and foster the development of food pantries and service groups. As an adult, I will recall my adolescent community service and know that I made a difference,
making children and parents smile by the simple act of volunteering.