Name: Kimberly Simmons
From: San Antonio, TX
Grade: 11th
School: School of Science and Technology
Votes: 8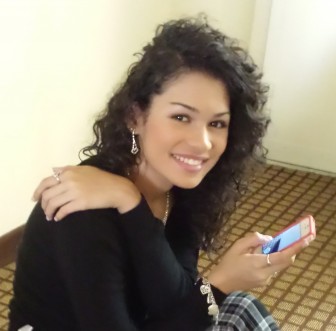 "Helping
Hands" – Feed My Sheep: John 21:17
My name is Kimberly Simmons and I
began my volunteer journey actually be entering a beauty pageant.
This organization I chose is not centered on just the beauty or
talent of their participants, but their willingness to be a part of
something that will help the greater good of our community. We strive
to help feed the hungry and assist our local organizations in
providing for soup kitchens and food drives.
This quickly became my passion,
and I couldn't be more honored than to be involved in such a
beautiful program. My reign has now ended, but I am still committed
to feeding the hungry. Even though I did not win the scholarship in
the pageant, it was worth all the hard work and time (100 plus hours)
I dedicated to food drives. It will be an experience I carry with me,
always.
I would go with my family to the
soup kitchen and volunteer to help serve food to those in need. It
was there that I was able to physically see all of the people who
needed help. So, I chose feeding the hungry to be my way of giving
back. My responsibilities as a volunteer were always start to finish
on projects; I had to plan, organize, make contacts, distribute cans,
make appearances in my crown, be present for the food drives, take
the food to the Food Bank, and finally, return the cans and give
donations. Food distributions held, we made food boxes with various
necessities and had families in need pick them up. Throughout this
journey, I raised approximately 10,000 pounds of food, feeding over
7,000 families.
In addition, I helped my father
with Meals on Wheels route, which is an organization centered around
helping to feed the elderly. Now, I volunteer about 10 hours a month.
This is because my biggest challenge is time, as I attempt to balance
this & school.
However, I will always find time
to keep doing volunteer work; it fills my heart with joy to know I'm
helping someone. I have elected to dedicate my time to community
service simply because I love it. No feeling can match that of
helping the less fortunate. It keeps me appreciative for all that I
am blessed with. It is hard to see the struggle and pain in others'
lives when most are so focused on their own. But because of community
service, my life was changed. For the future I would like to put
together a plan to organize food drives. The simple help that I have
provided has changed so many lives, and I couldn't ask for more
satisfaction than that. I hope that one day, I can inspire someone to
do the same. I was blessed enough to discover my passion early, but
for those still seeking answers, I always say "You do not know how
high you can soar until you spread your wings and fly."