Name: Hannah Knight
From: Channahon, Illinois
Grade: High School sophomore
School: Minooka Community High School
Votes: 0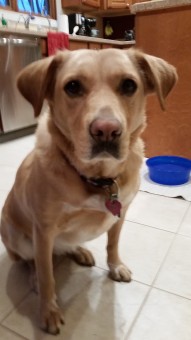 Helping
Those Who Can't Help Themselves
A volunteer is defined as "a person who freely offers to take part in an
enterprise or undertake a task". This simply means that you give up
your time to help in a mission to help make the world a better place.
People have many reasons for volunteering in various organizations.
They volunteer for a certain amount of time, which can include
numerous challenges and responsibilities; however, the satisfaction
is worth the time taken to help benefit a cause. You begin to
volunteer because something or someone can inspire you, but you have
to pick an organization where you are passionate about the mission.
For example, you could choose to volunteer on a vacation bible school and help
children learn, fundraise items for dog shelters, or help collect
shoes to assist in the process of a donation like I have. Since I'm
passionate about animals, my favorite volunteering opportunity is
collecting needed items for a dog shelter.
This is a cause that is always in need of help. Due to that, I have participated in
these things yearly, which is mainly during Christmas time to help
spread the holiday cheer. In addition to this, I look for ways to
help out year-round, because the animals are always in need of some
form of help. Some responsibilities you take on with this position
are finding others to help you donate so you can make the donation as
big as possible. I look to my neighbors, people who live near my
neighborhood, and my family members. Since these people are extremely
generous, together we are able to make a big difference in animals'
lives that continue on to this moment. To make sure you help out
animals everywhere, you can switch up which local shelter you donate
to, to make an impact on animals all around your area. Along with
every activity you face challenges. To be honest, I haven't faced any
other challenges than wanting to adopt all of the animals and bring
them home with me! However, I find peace in this by knowing they're
receiving help in their current situation.
This brings me a lot of satisfaction in knowing I can help out animals and make an
impact in their world. It makes me feel good inside to know that I am
helping animals out that can't help themselves. By doing this, I have
learned how fortunate all the animals with homes are and they are
very lucky to be there. I have also learned that so many animals are
in need of help, and I want to help make a change in the world to
make sure they find "furever" homes to be loved in for their
whole life. Having said this, as my career I want to be a veterinary
radiologist by helping injured animals heal and be happy again. I see
my actions now helping me in the future by giving and helping the
animals of today and then I will have even more experience to help
them in the future.
In conclusion, I see myself having a career helping animals inside and outside of
work. I believe that every volunteer opportunity helps out the world
in some sort of way, shape, or form. Whether it be volunteering at a
soup kitchen, or helping out shelter animals, you are helping make a
positive difference in the world.