Name: Anasia Clayton
From: Orlando, FL
Grade: ace2college@gmail.com
School: ace2college@gmail.com
Votes: 0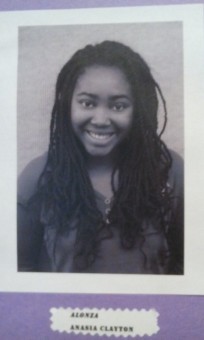 Anasia
Clayton
Youth
Forward Scholarship Essay
HERO
CODE HACKED
As children we dream of being heroes, fighting crime, and saving the
world. We dream that one day we'll make a difference. However, as
we grow up we lose sight of our childhood dreams. We believe that
there is no possible way for us to make a significant difference. We
believe that we can't save the world, we can't fight crime, and
we can't be heroes. We believe that those are just dreams,
fairytales, and make-believe.  If only we would just look around
and see that we are surrounded by people in need—all kinds of
needs.  Maybe we can't change the whole world, but maybe, we
can save someone's world. That is what being a volunteer is all
about, helping each person you can, making them feel like they are
worth saving.  
            With this, I've volunteered in various places like a homeless ministry,
a resort for terminally ill children and their families, food banks,
and I've even greeted for 100+ hours at the hospital. All
of those were enriching experiences. However, my current role as the
lead Sunday school teacher for preschoolers at my church is my
favorite. This role started for me one day when the children's
minister was short-staffed and needed another volunteer.  I was
eager to help her despite the fact that I wasn't very fond of
children at that time. Three years later, I lead the class, because I
absolutely love children.  These two hours on most Sundays has
become completely worthwhile as every little heart matters. To see
the joy on my little friends' faces as we play games, sing songs,
and tell stories is an amazing experience.
Our church takes place in a movie theater. Therefore, I am charged with
converting the theater into a welcoming preschool classroom which
includes: setting up a play area, teaching area, a snack spot, and
arranging the craft and lesson materials. Often, I must also direct
and train other volunteers of their roles in that day's class.
After class, I have to clean up any messes and pack up the classroom
back into its 6'X 4' box where it's stored for the week. The
most important preparations, however, are to reflect on my purpose
for being there, to smile, and to decide to match my students'
energy level. These are the preparations that allow me to create a
loving environment for everyone. At times, it's tough when I'm
exhausted from the busy week of IB classes and school activities, but
the results are always rewarding.
It's worthwhile when I see those curious eyes filled with excitement.
However, I've come to realize that I'm not just serving
children. On more than one occasion, parents have shared their
appreciation for my efforts. A single mother who'd been going
through a tough housing situation shared with me that she feels at
peace knowing her 3 children are safe and loved in my class. For a
little while she's able to worship and focus on refreshing
spiritual lessons in church.
Volunteering with these kids has taught me how to love and how to be patient. I
know that volunteering has made me a better person.  It's
taught me how important communication is (even on a preschool level)
and how important it is to make sure everyone feels wanted. As I
look forward to my college years, I know I will miss my little
friends and I will never forget being mobbed with those sloppy group
hugs. I see my volunteering as forward-looking because the people we
help today will help someone else tomorrow, creating an endless cycle
of love.
I have successfully encouraged other teens at church to serve in the
children's ministry. I have told them how rewarding it is; and
many of them have now experienced it for themselves. However,
everyone may not have the heart or time to give to Sunday school.
The important thing is to learn the value of giving your heart to
someone else's need in whatever role you can find.
What's more, those superhero dreams I once had have been replaced by a new
reality for me: touching real lives, in real-time, in real (often
real simple) ways ensures that dreams of making a difference will never fade.