Name: Morgan Yaeger
From: Gansevoort, New York
Grade: 11
School: Schuylerville High School
Votes: 103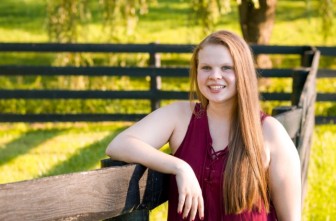 Hippotherapy-Helping
Children One Stride at a Time
By
Morgan Yaeger
With a passion for horses as well as helping and teaching children, hippotherapy sounded like the perfect volunteer opportunity to
involve myself in. To be a hippotherapist, one must first be a licensed physical, occupational, or speech therapist. Therefore,
hippotherapy clients have a large variety of conditions including, but not limited to, cerebral palsy, autism, and many sensory
processing disorders.
As a hippotherapy volunteer, one can assume two roles, horse leader or side walker, both of which I have taken on. As a side walker, one's responsibilities include: making sure the child is centered on the horses back, singing with the kids, engaging in games with them and also challenging them, such as having them reach for an object typically out of their reach. Assuming this role places an individual
in charge of the child's safety, which is not to be taken lightly as many kids cannot react if something was to go wrong. Playing with
the kids can also be a challenge, as some are not always willing to participate, so side walkers need to be creative and be able to think
on their toes to come up with a game that both challenges the child and engages them completely. As a horse leader, one oversees leading the horse around the arena per the instructor's directions. Horse leaders must be attentive to the horse's demeanor, as they can be
temperamental giants that could injure someone easily if they become uncertain or uncomfortable with what is happening in the lesson. As horse leader, the horse often poses as the greatest challenge as unstable kids may hurt their back and their reaction to that pain is
to try to bite the leader.
Volunteering at the same establishment for three years has allowed me to work with some of the same kids, and allowed me to witness all of the progress they have made. This progress has inspired me to continue helping children just like them, as I pursue a career in occupational therapy, and eventually hippotherapy. My hope is that hippotherapy can become more well known, as I have seen first-hand the great improvement it has stimulated in many individuals. I now spend at least 3 hours a week at sessions, to continue to see improvement, as some kids who could not sit up their first session now can, and those who would not speak their first session now command the horse with no hesitation; which is heartwarming to experience. I hope that hippotherapy grows over the years as I would love to see these kids ten years from now and how far they have come. Without hippotherapy many children would not have seen the progress in everyday life that they see today, and I would have never found my passion.