Name: Mee'Shaunda Roddy
From: Chicago Heights, IL
Grade: Junior
School: Marian Catholic High School
Votes: 0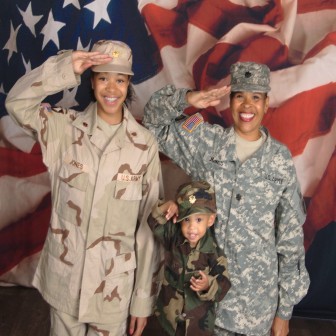 Just imagine a young woman coming back from military
deployment, tired, ready to see her family, and proud for the service
she provided for her country. Upon her return, she realizes she no
longer has a civilian job, her husband has left her and her child,
and her home is being repossessed. This young woman will now live
on the street with the constant worry of feeding not only herself,
but the mouth of her child; and all for what? For the fact that she
took on the call of our nation, to be a part of a bigger picture and
fight for her country so that her peers could be free.
I have organized and assisted with many community service
activities. My grandmother is in the military, so I've always found
helping soldiers and veterans to be very beneficial and rewarding. I
was a member of "Teen Council" which is an organization
that brings teens together in order to help others deal with family
members being deployed. I am currently in an organization called
"National Women Veterans United," which clothes homeless
veterans, helps them to find housing, and offers therapeutic help to
those who were abused physically or sexually while on deployment. My
job, specifically, is to help with gathering clothes from the
community and sorting through them, making sure the donated items are
not stained, torn, and are in good wearable condition. I also help
to collect food and gather toiletries such as shampoo, soap,
toothpaste, etc. Because I hold soldiers and veterans dear to my
heart, I find that my biggest challenge, as a volunteer, is feeling
helpless when I am unable to provide someone with as many goods or as
much information as I had hoped.
It is hard to fathom that these brave men and women fight for our
country and some come back without jobs or homes. I want to raise
awareness on these issues. It is not fair that we, as citizens, are
free because of these men and women who no longer have a place to
live or a means for food. I have learned to be selfless and to look
after those who "no longer have." My work as a volunteer
with the "National Women Veterans United" has taught me to
appreciate all of my blessings and to not judge those who do not
have. My time with this organization brings me immense satisfaction
every step of the way; from gathering the clothes, and sorting
materials, to talking to the veterans themselves.
Everything I do is for a greater purpose, one that is bigger than
myself or any one person who is a part of the organization. Years
from now, I know that my work will have had an impact because I can
help people like the woman depicted at the start of this essay. I
can help someone to start over by giving them a better reentry into
their civilian life upon their return from deployment. Everyone who
helps impacts a life, and so I am proud to be able to know that my
work makes a difference. Forward looking, means looking toward
future possibilities. I am constantly asked by my grandmother's
peers if the military is a course of direction I wish to pursue in
the future and, honestly, it is not. Even with that said, I cannot
imagine my life without the presence of soldiers . I do, therefore,
hope to continue my volunteer work and branch out to other military
affiliated organizations. I seek to change the way the system works
in order to ensure that soldiers return to homes and jobs. That is
the least we can all do for them.