Name: John Sadler
From: Moore, OK
Grade: senior
School: Moore High School
Votes: 168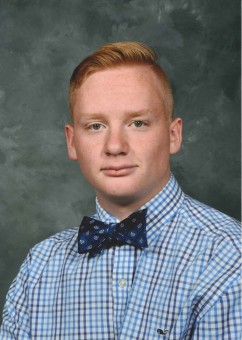 Nobody plans for a natural disaster to happen to him or her, but that is
exactly what happened to Moore, Oklahoma on May 20, 2013. I volunteer
with the Oklahoma Southern Baptist Disaster Relief team. I am a
trained mud-out volunteer. What this means is we gut homes and remove
soiled belongings that pose a health and safety risk to the
homeowner. Even though I did my fair share of manual labor, I really
shine at interacting with people. What a lot of these tornado
survivors needed just as much as physical help was somebody to be
there and just listen. It
makes my heart overflow to help others and to see a spark light up in
the recipient's eyes when they realize their situation isn't
hopeless and someone truly cares. Loneliness is a feeling nobody
should have to experience when his or her world has been turned
upside down from a natural disaster. If we can give that individual
hope in their time of turmoil, then our hard work has paid off. I
worked all summer doing disaster relief, as well as speaking to a
visiting youth group months later.
The biggest challenge our team faced in doing our tasks was doubt.
Unfortunately when disaster strikes all the con artists come out of
the woodwork. We don't charge a fee for what we do. That's not
what we are about. Homeowners can't fathom that somebody is willing
to get sweaty and work hard all day for free and accept nothing in
return. It takes trust and a good reputation. Thankfully, since our
disaster relief group is well known in Oklahoma, we had the support
of city officials to advise the community that we were legit.
My goal is to be a physical therapist. As one who has always been
athletic and involved in sports, I feel like I will be able to
identify with my patients better, having gone through similar
struggles and overcoming the challenges of physical limitations. It's
frustrating and the healing process requires endurance. I want to
help individuals see that their injury and disability does not define
who they are as a person.
These disaster relief experiences mirror the passion I have for physical
therapy. Caring for others and walking with them on the road to recovery whether it
be from an injury or natural disaster requires sympathy, endurance
and trust. Between the disaster relief volunteer efforts and my
aspirations of being a physical therapist, I consider my past
activities and future career to be "forward-looking". The goal in
both my career and volunteering is to provide hope and to help people
see a brighter future ahead. I would like to thing that the work I
have done has made a positive difference not just physically but also
emotionally. We live in a world where many are self-absorbed. If we
can turn this around and think outside ourselves just for a little
bit, then we have the opportunity to make a difference in someone's
life.