Name: Ahleesha K. Bryant
From: Princess Anne , Maryland
Grade: college freshman
School: University of Maryland-Eastern Shore
Votes: 0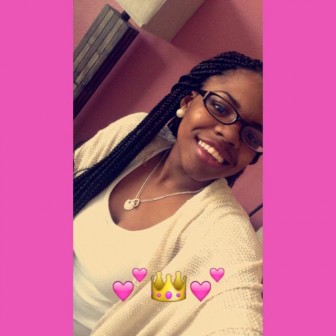 Ahleesha
K. Bryant
(336)402-6151
Youth
Forward Scholarship: Hot Dish & Hope

Earlier this year I volunteered at a local church in Greensboro, North Carolina. Volunteering was one of my many requirements as a
participant in the Delta Sigma Theta Jabberwock Scholarship Pageant. I chose to volunteer during the church's Hot Dish & Hope
program because I can relate to some of the homeless people, or less fortunate, in many ways. I volunteered for one day and three hours in a temporary position. As a Hot Dish & Hope server, I prepared plates and drinks, and served it to those in homeless positions. My
biggest challenge was coming to terms with the idea that many of the people who were served on that day were not going to a stable or safe home when they left the church. My biggest satisfaction was knowing that the other volunteers and I made a positive impact on their lives for a moment. From this volunteering experience, I learned to cherish what I have and humble myself because everyone has a rough moment in life. However, it takes a lot of strength to get through these moments.
Serving the homeless at Hot Dish & Hole goes in alignment with my career goal of becoming a Supreme Court Justice. While at the church, I realized that a majority of the people who were being served, were either African American or of other minorities.
So, I plan to accomplish all of my small term goals and requirements to be able to change, make, or pass law benefit those oink my community. With my volunteering, I hope to continue to make positive impacts on peoples lives and give them the encouragement to make changes for the better.
I see my actions as "forward looking", or plans that can affect the future outcome, because it will show people that everyone, poor
or rich, has the potential to be great and do great. Within the next decade, or three, I think that my actions as a volunteer will better
the assistance/services given to minorities. I believe that I will have made a difference because volunteering were just smaller steps
to a big move.