Name: Madison Poff
From: Dallas, Texas
Grade: Freshman
School: El Centro College
Votes: 0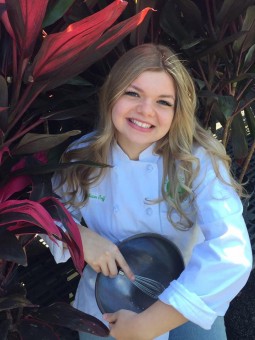 Madison Poff
            Whenever I was a Senior in High School, I made a decision that would change the way I view not only others and the world around me, but also how I viewed myself. My Culinary teacher assigned for a few classmates and I to go over to the Avanti Senior Living Center to help decorate cookies for Christmas with some of the Residents. Even though my teacher mostly wanted me to do it for publicity sakes considering the Houston Chronicle would be present, I actually really enjoyed talking to the ladies, decorating cookies, and guessing whether it was Michael Buble or Nat King Cole singing the Christmas Song with them. After our initial meeting, I was chosen out of all the students from my class to be able to go volunteer there during school hours.
I spent more than six hours a week being their "server" which entitled me with the responsibility to take their orders, deliver their drinks, and most importantly visit and make sure the Residents were comfortable and happy. I never would have thought that volunteering at a place where people were constantly moving in and moving on, would give me such an appreciation and thirst for life. I volunteered at Avanti Senior Living for four months, eventually leading to a job offer which I had to deny for other, unrelated reasons. I loved hearing the inspiring, truth filled, raw stories from the ladies with so much more life experience to offer. The worst part I must say was watching the slow, mental deterioration of some of my Residents who had developed Dementia. It would start with little things for instance forgetting that they already ordered their meal. The condition would slowly eat away at them, they would become anti-social and a little aggressive. Many of my Residents would have to be moved to Memory Care, so they could have the proper attention they needed.
            When I would leave for the day after a mentally and physically draining shift, I would feel nothing but satisfaction. The position I held led me to broader understanding of life, and how one person's kindness could impact another's day. It filled my heart with joy when a resident would grab my arm or hand and tell me that they missed me when I wasn't there, or that they truly and honestly appreciated not only my work, but just my time.

"Forward Looking" to me means that the actions of today will become more widely known and used in the future. I do believe my activities in both volunteering in a Senior Living Center and practicing Culinary Science/Nutrition are "Forward Looking". The more adolescents that are volunteering at a Senior Living Center means that more adolescents are being exposed to the later ends of life, and also can see the impact that health can have on an individual as they progress through life. Because of my position, I was able to see the back of the kitchen and make sure the residents were getting the nutrition that they needed, and the severity if they didn't receive certain nutrients. This exposure led me to alter my major a tad, tacking on a minor in Nutrition. I want to help not only with Nutrition with the elderly, but children or Adults. I want to
make sure that every person has access to nutritious and delicious food.
             If I went back in 10, 20, or 30 years from now, my activities probably wouldn't be noticeable. My activities involved the impacting the lives of the people who lived their at the time, and the reality is that they will not live to be alive in 10,20, or 30 years. But the impact that the residents had on me, will last my lifetime.