Name: Hannah Worthy
From: Buchanan, Georgia
Grade: 11
School: Bremen High School
Votes: 0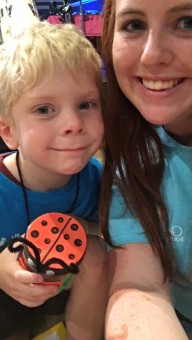 How
Helping Children Changed My Life
I have volunteered at a children's music camp for the past two summers. Each summer I volunteered thirty hours. The biggest obstacle was always remembering to have patience with the children. My responsibility was to make sure the kids were always safe and were singing the songs they learned. Helping the children gave me satisfaction because they always looked so excited to see me. It has
been over two months since the last time I volunteered here, and the kids I watched still recognize me when I see them. In the summer of 2015, I had five and six-year-old boys and this year one was not in my group but still remembered me. I have learned that although kids are not perfect, they all have a nice side somewhere deep down. I chose to work with second grade boys because they are usually funny and just trying to have fun.
I think I did make a difference in the lives of the kids because I shared the love of God with them and showed them that someone cares about them. I think I am looking towards the future because I hope to have kids of my own one day, and I can learn from other children I am around. I do not want a career as a teacher or daycare worker, but I want to be around children during my free time, such as teaching Sunday school at church to young ones. I plan to continue volunteering at this camp every summer.