Name: Jared Weber
From: FAIR LAWN, New Jersey(NJ)
Grade: 10
School: Fair Lawn High School
Votes: 0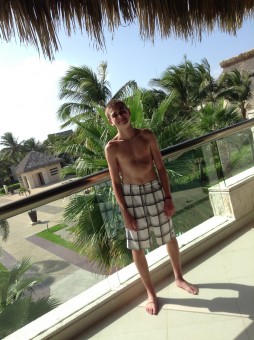 Throughout the past few years of my life, I have spent much of my time working
with others. Through my high school's Big Brother/Big Sister
program, I have been able to interact with young children, and work
with them to make their weekends more enjoyable. Last year I assisted
as a coach for one of my town's basketball teams, helping out a
team which only had one coach at the time, and was struggling to play
at a competitive level. For the past three summers I have volunteered
my time so that I could work with children all summer, sometimes up
to 8 hours per day. These experiences have taught me that giving back
to others is an incredible feeling.
The Big Brother/Big Sister program at my high school gives high school
students a chance to pair up with kids from age's four to eight,
and then play with the kids for three hours on any given Sunday.
However, due to the lack of people that will attend these meetings,
any of the volunteers could be given extra children to look after, as
I was at virtually every meeting. There were times where I was
responsible for up to 5 children at any given point, and the fact
that I was able to keep every one of them happy and having a good
time was extremely humbling for me, as it was one of my first real
interactions with young children, where their happiness depended on
me. Knowing that for the past few years I have consistently
volunteered to help these children, and have been able to make so
many of them happy has been a great experience.
Through my town's athletic program, I found out about an eighth grade girls
basketball team that was desperately in need of someone else who
could help coach the team. I immediately volunteered, as I was
playing basketball for my high school at the time, and knew that I
could help out. This problem was escalated by the fact that the team
only had 7 players, and there are 5 on the court at any given moment.
During this season, I spent hours helping to run the team's
practices, coach from the sidelines during the games, and even
scouting a couple of teams that figured to be a tough matchup. When
the team desperately needed a win, as they were in danger of losing
every game for the season, I went with the coach to watch the next
two teams that my team was playing, and helped to create a game plan
for how to beat them. This scouting worked, as we went on to beat
both of them. Seeing the joy that overcame everyone on the team after
the first win was absolutely incredible, as I played a part in their
happiness, which made the win even better for me.
During the past 3 summers, I have spent my time volunteering at a summer
camp, working with children from ages 10-13. I have spent anywhere
from eight to ten hours per day at this camp, from Monday to Friday,
all summer long. This would estimate to over six hundred hours spent
working with these children, trying to help them enjoy their summer
break even more than they already were. I will never forget how one
day, a camper came to me complaining about how he was always the
first person out whenever we played knockout (a form of a basketball
game with two basketballs, where the object is to make a basket
before the person in front of you, getting them out), and so I
volunteered to teach him how to shoot better. After about an hour of
teaching him everything that he should do when shooting a basketball,
he decided to go back and play another game. This game, he was not
the first one out, was not the second one out, or even the third one
out. While he did not win, he came close, and was delighted when he
realized how well that he did. Moments like this one taught me how
great it is to affect someone the way that I affected him, and showed
me just how happy you can make someone by helping them.
Ultimately, these experiences have taught me how important it is to help others,
as just one nice deed can affect their lives in a manner that is
beyond imagination. They have shown me that by being a good person,
you can make someone's life better, which makes them want to be a
good person. Affecting someone's life in a positive manner is
always a great thing, and working with children the way that I have
for the past few years has been a great outlet for me to affect the
lives of these children in a great way.
Thank
You,
Jared
Weber