Name: Hannah Angelella
From: Lynchburg, VA
Grade: 12th grade, senior in high school
School: Lynchburg College
Votes: 6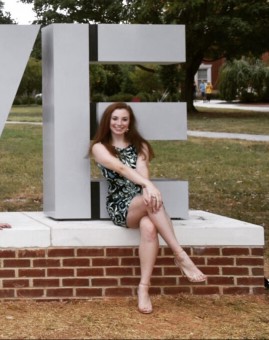 After
spending most of my childhood summers in Vacation Bible School
myself, I was thrilled to join as a crew leader four years ago.
Despite the joy of teaching these children, I never considered a
teaching profession for myself before. Being a crew leader helped
shape my perspective on life and taught me about patience,
leadership, and responsibility.

Long
hours with numerous children of varying behavior levels quickly wear
down even the best person's patience. Being a crew leader drastically
affected my tolerance. I learned to distinguish between big problems
and trivial matters through my 36 hours spent every June. Reacting to
every single problem could leave a teacher exhausted after twenty
minutes. Patience is the key to teaching children. I have developed
an incredible amount of patience over the years that affects every
situation I face.
Weeks
of preparation to lead my group of children taught me the true
meaning of responsibility. No child is turned down at registration.
No questions are asked concerning whether a child has any mental
health issues or not. Therefore, I learned to prepare myself to teach
and lead any type of child. I did encounter children with various
afflictions throughout my years as a crew leader. Many people become
nervous interacting around these children. I quickly learned that
such fears are both unfounded and ridiculous. Of all the children I
taught over my four years as a crew leader, the most kind-hearted and
good-natured of my students were those who had to work much harder to
learn and overcome their personal obstacles. I learned how important
it was to my students, especially those facing obstacles, that I
serve as a trustworthy, dependable leader. These experiences taught
me the importance of acting responsibly both for myself and for
others relying on me.
Being
a leader made me the person I am today. Patience transformed how I
act. Leadership affected how I care. Responsibility changed how I
think. Volunteering for Vacation Bible School introduced me to a side
of myself that I never knew existed. I now plan to pursue teaching
young children in the areas I particularly love, dance and theatre. I
hope to have made a difference, even a small one, in the lives of the
children I taught, especially in teaching them the value of kindness
towards one another and perhaps to encourage other leaders around me
to practice the virtue of patience with all the children they
encounter. I hope that, though I am just one person, if I were to
return to Vacation Bible School a few years down the road, I would
find that patience and kindness are still being encouraged and
practiced by both teachers and students. It only takes one person to
inspire others to find the good and live it. Without my experiences
as a group leader, I never would have discovered my affinity for
education and my future career aspirations.